When you're in America there are certain things that, although not wildly different from the UK, are just obviously American. You can't quite put your finger on what it is, but it's definitely there. That's a bit like betting with Red Zone.
The company saw a niche in the UK for not just an American themed sportsbook, but one that puts strong emphasis on American sports as well, and so Red Zone was born. What takes away from the authentic All American feeling somewhat, is that the company behind the brand is Argyll Entertainment AG, from Switzerland.
Not that this really matters to the punter, who can take advantage of the extra market coverage in certain areas regardless, as well as the lower margins being promised by the bookie.
Sports Markets, Odds Value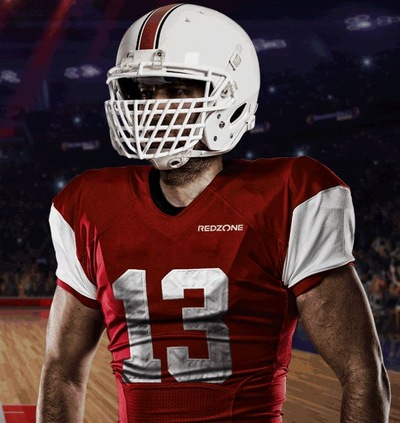 In terms of the depth of the markets covered by Red Zone, you'll be pleasantly surprised if you prefer to favour British sports and blown away if you like the American ones.
Football coverage includes all of the obvious leagues as well as dropping down into the National League in the UK, with rugby, golf, motor racing and even trotting covered. Not all smaller bookmakers cover horse racing, for example, but Red Zone do.
Obviously, it's their coverage of American sports that claims the headlines, so you'll be able to find markets on Major League Baseball, Major League Soccer and National Hockey League matches without any problem. Both the American NFL and the Canadian CFL are given a decent amount of focus in terms of American football, too.
For the full experience, switch over to American odds and go all out.
Speaking about the odds, this is where I think Red Zone excels. They take their grid-iron seriously, you see, meaning that they don't just follow the crowd and offer the same markets and odds as every other bookmaker that gets their information from Las Vegas. There's a reason why they consider themselves to be the 'British home of American sport', with the fact that they have odds to appeal to even the most discerning of customers playing a big part in that. As an example, they were offering odds of 33/20 for bets on the Atlanta Falcons in their game against the Philadelphia Eagles, with the best on offer anywhere else being the 4/7 from Betfair. They're just as good when you look at English sports, matching the best odds of most mainstream bookmakers for Premier League games.
Banking: Deposits/Withdrawals
| PAYMENT METHOD | MINIMUM DEPOSIT | MINIMUM WITHDRAWAL | WITHDRAWAL TIME |
| --- | --- | --- | --- |
| Visa/Mastercard | £10.00 | £20.00 | 3-5 Days |
| Trustly | £10.00 | £20.00 | 3-5 Days |
A maximum deposit of £20k applies and is the same for withdrawals in any 24 hour period, unless you get in touch first and you can withdraw any higher amount.
They could definitely improve this area of the business and introduce more e-wallet banking options, but it's not so limited as to hold anyone back, at least.
Comments on the Website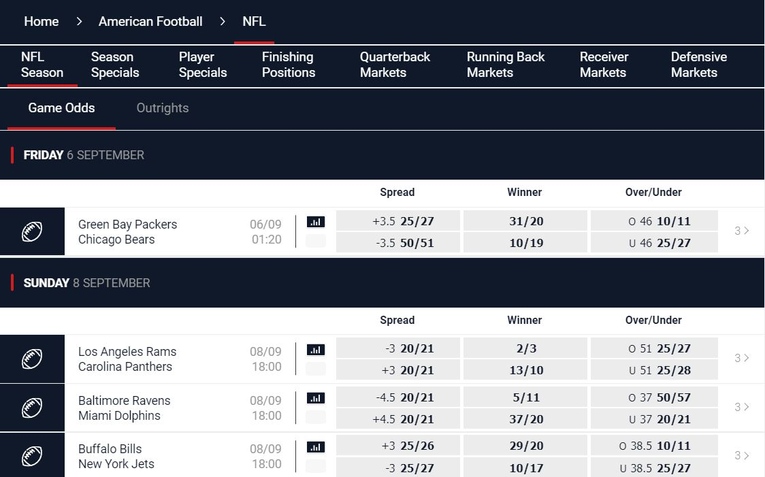 Of course the colour scheme is red, white and blue, what else could it have been? The site does remind me of an American diner from the 50s as well, though.
That's purely aesthetic of course, as the engine that powers the website is most definitely from the modern day, reacting instantly to commands with no lag and barely noticeable loading times.
The homepage offers live events, popular events, highlights, and suggested fixtures as soon as you land, but navigating to something else is no chore using either the search function or the A-Z, both of which are easily accessible. Some filtering options are available in the A-Z but most of this will be done once you go to the page that handles the particular sport.
Here, you can choose to see a daily match list, or search further using the 'top leagues' or 'all leagues' tabs, before viewing a specific event. This should all be complete within 4 clicks of the mouse so it really is no hassle.
The site also feels expansive with lots of room to breathe, which in turn gives the bettor plenty of space to think and analyse their next move.
Red Zone Sports Mobile App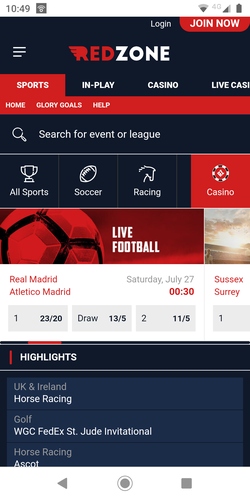 I was a little disappointed to see that there was no app when I looked for one; being American branded I assumed they would have everything all sewn up, every feature possible.
Regardless, it's not overly important when you consider that they've created a site that is perfectly optimised for mobile. It can be a bit of a scroll-a-thon at times but it is just as snappy as the desktop site as well as following the same colour scheme.
Navigation is best handled using the menu button or the scrolling sports menu really if you want to browse, otherwise you might find it a bit of a slog. Using the menu's allows you to filter as you go, whereas if you are looking for a specific event you are better off using the manual search tool.
Where available, the 'create your bet' button will be available in event view to toggle on or off so you can build a multiple to your own requirements, and other betting lines can be split into categories for easier browsing or favourited for later.
They could do with a quick access point to your bet history, the slip only shows up if you make a selection and then sits at the bottom of the screen sort of in the way, but this was my only niggle with the mobile site.
About Red Zone Sports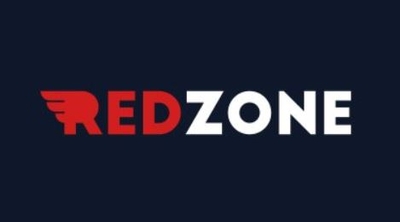 Red Zone Sports is owned and operated by Argyll Entertainment AG. That means it's from the same canon as SportNation and Alan Brazil's Fantasy Fever. Brazil was the face of BetOnBrazil, you might remember, before it was rebranded as SportNation.
Red Zone Sports was originally launched back in 2016 but it didn't quite have the impact that Argyll Entertainment were hoping for, so they removed it and then re-launched it the following year. That time it caught on, perhaps because the 2016 European Championship was over and done with so people were more inclined to look at different betting options.
As well as keeping their customers happy with decent odds, Red Zone also have regular promotions that take things that little bit further in terms of being able to ensure the best value.
A recently expanded trading team has also allowed them to offer the same level of expertise on top European sports as they already offer on American sports, and they show a willingness to try new things with the likes of Whatsapp promotion notifications. This sort of thing along with a banging rewards program keeps them relevant, makes them seem vibrant and alive, and makes them stand out.
Live Betting at Red Zone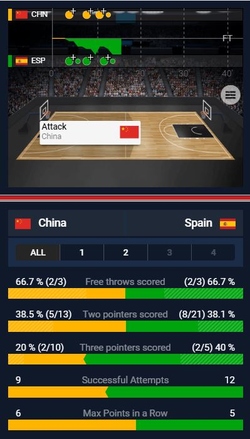 This site is big on its live betting. In-play is one of the quick links at the top of the page, with each sport then split off into its own section in order to make it easy to find the event that you want to have a flutter on.
There is an awful lot of live coverage too, they don't just focus on the obvious sports; snooker, table tennis and beach volleyball etc. are all regularly available.
Once you've selected your sport, each event has its own section of the page where you can find out how long has been played, what the score is, and how many various bets you can place on the event. You'll also see an icon that will inform you if there are any speed markets available, which is handy if you just want to place a quick bet and don't really care what on.
The live schedule is a useful additional feature if you are sitting down for a while and want to plan your betting activity.
Live streaming isn't an option – another surprise from the 'bigger is better' American ideal – but the SB Tech platform the site runs on has one of the best live betting interfaces in the business, so there is still plenty to get excited about.
Stats galore, a detailed and engaging live match graphic, and plenty of interesting betting markets keep the punter well informed and make this a live betting experience to be reckoned with.
Finding Support and Their Licence
| CONTACT METHOD | AVAILABLE? | HOURS | ADDRESS |
| --- | --- | --- | --- |
| Email | Yes | Midday – 10pm | help@redzonesports.bet |
| Live Chat | Yes | Midday – 10pm | Via Contact |
| Phone | No | – | – |
| Twitter | Yes | – | @GoRedZone |
Red Zone could add support onto the 'must do better' list after banking. It's alright, it's not terrible, but it's clearly a bit of an afterthought. The live chat operators connect quickly but can be a bit slow in replying, although they are friendly enough.
You can expect a response to emails within 48 hours, so perhaps not the best option if it's urgent. The FAQ is there but isn't comprehensively written.
They might be an American sports themed company that is trying to appeal to the English market, but Argyll Entertainment AG is actually based in Switzerland. Here's the postal address if you want to get in touch with them:
Argyll Entertainment AG, Bahnhofstrasse 10, Zug, 6300, Switzerland.
It's Argyll Entertainment AG that has the Gambling Commission licence that Red Zone Sports operate under, the number for which is 045143.
The Red Zone Experience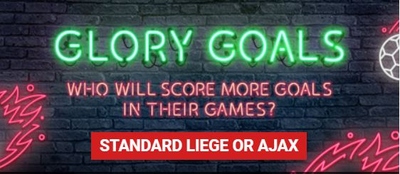 It goes without saying that Red Zone will be a haven for US sports fans, but the thing is, their UK and European coverage on top sports is now so good that it's a decent place to be even if you never touch an American sports bet. If you bet on both, therefore, it's hard to think of anywhere better.
It is certainly one of the louder brands out there – of course it is, it wouldn't feel American if it wasn't – so this is something to consider if you are easily annoyed by flashy promo's; their promotions section is practically glowing.
There are some other features that didn't make it into the body of the review but you definitely need to know about:
Glory Goals – Careful with your diction on this one. A chance to boost winnings by betting on goals scored. The thing is, the two teams in question could be playing in different countries, Luton v Barcelona for example, or they could be made up Cockneys vs Scousers, and it's only the goals that count. Low margins are promised too.
Stats – There is a historic stats tool that can be used alongside live event stats, or as a way to help pre-match betting decision making.
Rewards – More and more sports books are cottoning onto how popular reward schemes are becoming, but not many offer the same quality of rewards as Red Zone. Fusball tables, Playstation's, huge TV's – there's all sorts.
Virtuals – It's a small selection but each of the three categories run events every few minutes with believable scenarios. Not the best graphics though.