21Bet was initially closed in April 2019 before being been taken over by a new company called the Incentive Group, this company already runs a site called Premier Punt.
The new company however also ran into cash-flow difficulties later that year and closed the 21Bet site for good.  To withdraw any fund you need to contact the company: 21bet@incentivegroup.co.uk.
---
21Bet is proof positive that not all bookmakers need to be old-school companies that have been around for donkeys years. They were set up in 2016, making them one of the youngest bookmakers that I've dealt with. Don't mistake youth and relative inexperience for naivety, however. 21Bet have already made impressive inroads into the world of online betting and will continue to do so moving forward.
The site was created by lovers of sports betting and people who have previously worked at online bookmakers such as Betfair. If you're a fan of English football then you may well have heard of them – the company became the 'Official Betting Partner' of four-time FA Cup winners Wolverhampton Wanderers just a few months after it was set up in 2016.
Regular 21Bet Promotions

There are a number of decent promotions offered by 21Bet. They do some standard ones that you'll have seen elsewhere, such as Best Odds Guaranteed and Acca Insurance, but they also do some slightly more off the beaten track types that you might be interested in. For example, if you place a First Goalscorer or Correct Score bet on a Premier League or La Liga match and the game finishes as a score draw after ninety minutes then you'll get your stake back as a free bet up to £25.
There's also one for the darts fans amongst you. Premier League Darts features some of the best names in the business, so you'll want to place a wager or two on the matches. Luckily for you you can get your money back as a free bet if you place a pre-match wager on the Correct Score of a match that goes on to end 6-6. You'll get up to £25 back, so place your bet safe in the knowledge that if it turns into a thriller you're covered.
Desktop Site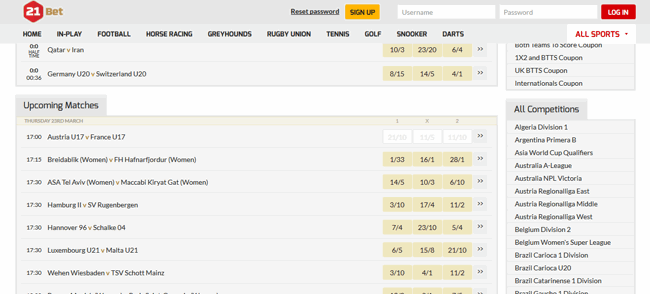 The 21Bet website is clean, uncluttered and simple. There are no major bells or whistles, no glaring promotions taking up half of the welcome page or anything else of that ilk. It reminds me in its simplicity of another relatively new website, 138.com. 21Bet has opted for a white background, grey header and red banner across the top, meaning that it's really easy to see exactly what you're looking for without trying to decipher one colour from another.
The main sports that are covered are available via quick links along the top of the page you're on, with tabs for the adjoining casino and live casino above them. A scroll down the homepage will reveal the next horse races that are due to be off, any events that are live at that moment and the next few live things you'll consider placing a bet on. There's an 'All Sports' tab in the top right, which is handy, but I personally would like to see a search function introduced to make it even easier to get where you need to go.
Mobile App
21Bet's mobile app is comparable to the desktop site in terms of simplicity of use and cleanliness of appearance. It's reasonably quick to respond to requests, which feels like an important factor when you're looking to place a bet. The homepage has a banner at the top for the company's promotions as well as links to live events and upcoming football games. Along the bottom you'll find quick links to in-play betting, football, the casino and your bet slip.
If you want to look for something other than football or the live betting link then there's a menu button that lists every sport they cover. Clicking on something like tennis, for example, will take you to a page that shows you what's live now as well as any upcoming events. There are also links to the most important competitions that are coming up such as Wimbledon or the US Open. It's not exciting, but it's functional and fast.
Live Betting
In-play betting is becoming more and more popular, so it's little surprise that 21Bet have links all over the place that target any live betting you might be interested in. If there isn't anything to bet on live then they'll take you to upcoming events instead. It's a responsive system and there's a decent market on most major live events.
LIVE STREAMING
At the time of this review there's no live streaming available, but if that changes I'll update you here.
Markets and Odds
When it comes to both market depth and odds you're not going to get anything off the wall crazy from 21Bet. They cover all of the usual sports you'd expect form a decent bookie and some slightly more unusual offerings like Aussie Rules and pool.
Where they may interest some of you is with their coverage of the Championship. As sponsors of Wolverhampton Wanderers they're obviously keen to attract the interest of the lower league side's supporters, so they're odds on the English second-tier's games are more impressive than some other bookmakers.
Banking
At present the main method of banking offered by 21Bet is credit and debit cards. They told me they're hoping to introduce the likes of PayPal, Neteller and Skrill in the future, but when that will be remains to be seen.
OTHER PRODUCTS
There's both a casino and a live casino on offer for you here, with both offering table games but the non-live variant also promising jackpots and slots.
About 21Bet
21Bet is a UK company with its base in the capital. They are part of the FSB Technology family, which perhaps explains why their website and mobile app are so easy to use. Some of the people behind the company used to be part of Betfair, so if you feel like you can see similarities then that might explain why.
Their raison d'être is to offer something different from the mainstream in a reasonably crowded market. They want to win their customers over by being transparent and personal, keeping things simple and without the need for loads of gimmicks. It's a refreshing taste in my opinion, especially when compared to other bookies who think the louder they shout the more attention they'll get.
PROS
There's no getting away from the fact that their desktop site and mobile app are both easy to use and simple to navigate. The lack of a search function is a bit of a letdown but that doesn't take away from what is a strong card for Bet21 to play. That they're so keen to reward loyal customers is also a plus point.
CONS
The only thing I found slightly disappointing was the lack of true depth to their market. They're only a young company so this may well come with time, but for now the shallow market and far from exceptional odds may cause some people pause for thought.
License & Contact Details
The customer service options are decent enough, with a good live chat option for those of you who are like me and can't be bothered waiting for someone to reply to an email. You can email if you'd prefer, of course.
There's a Twitter account for 21Bet, should you want to see what sort of social media game the company's got. It doesn't interact with punters, though. Instead it's all about sharing stats, odds and nuggets of information you may want to consider when going to play a bet. The same is true of their Facebook page, which is full of 'banter' and tips but very little interaction with customers.
As I said before, 21Bet are a London based company that comes under the umbrella of FSB Technology when it comes to to their Gambling Commission licence. They do have a license, of course, and its number is 22201.
The company's registered address is: 41 The Space, Old Street, London, EC1V 9AE.