BetVictor, formerly known as Victor Chandler, are one of my favourite bookmakers. There is a classiness to their whole set-up that permeates its way through the website and the app.
The company was set-up in 1946 by the son of the man who opened Walthamstow Greyhound Stadium, so it's fair to say that the world of betting runs in the blood of the Chandler family. They still offer great service to dog racing fans, as well as horse racing and football bettors especially.
After a few re-brands they settled on BetVictor in 2012, and were one of the first bookies to hit the online market in 1999 – a year after the company officially relocated to Gibraltar in order to avoid paying UK taxes. Gordon Brown's decision to abolish gambling taxes as Chancellor of the Exchequer in 2001 was apparently mostly fuelled by Chandler's move abroad.
Website Rundown
I'm a big fan of the BetVictor website. It's modern, fresh, and really easy to navigate. There are four main tabs at the top and if you click on the Sports tab you'll reveal a sub-menu, including the in-play matches, football and horse racing options.
Streamlined is the word that comes to mind, and if there was an award for the best-dressed betting website then BetVictor would win it every time.
The great thing about the Sports homepage is that it doesn't show anything unnecessary but it gives you easy options to find everything you want. Live and upcoming races and football matches take centre stage but there is plenty more besides, including featured links, popular pages (which has some really useful stuff on it, and a list of all sports that BetVictor cover.
There are also lists of enhanced prices for the day, and everything just feels like it's in the right place. I instinctively know where to look and if at any point I want more info then hovering my mouse over an icon will usually give me it, and fast. The only negative I can find is the lack of a search function.
The simplicity of the site might not be for everyone but it is very much for me.
Mobile Betting
Those of you that like to bet on your phone will be pleased to know that BetVictor have doubled down on the usability of the desktop site and created a cracking mobile app.
Again, it's clean, simple to use and really easy to navigate. You can even give the app a pin number to make it easier to logon whilst maintaining security.
The app is similar in layout to the main site, with the same tabs and corresponding options so it will feel nice and familiar. Any changes they have had to make in order to scale down have been done with thought and actually improve the experience if anything, and the whole thing responds instantly to the touch, it's really quick.
Quick links to cash out, open bets, and popular sports like football and horses make a lot of sense, and the A-Z inside the main menu lets you filter leagues within certain sports to some degree which can speed things up.
In-play betting feels miles better on the app too, it looks better and the stats seem to be a bit more detailed – although that could have just been the game I was watching at the time.
There is no search function, but there is the ability to select favourites such as the Premier League, meaning you can move quickly to what you like to bet on the most.
I have a duty to report withdrawal waiting times as displayed onsite, but it is more likely that BetVictor are covering their own backs by stating longer timeframes than normal, since they also state that they process requests almost immediately. This means the extra time is down to the banks themselves.
There shouldn't ever be any fees charged by BetVictor unless you request a faster bank wire transfer.
Live Betting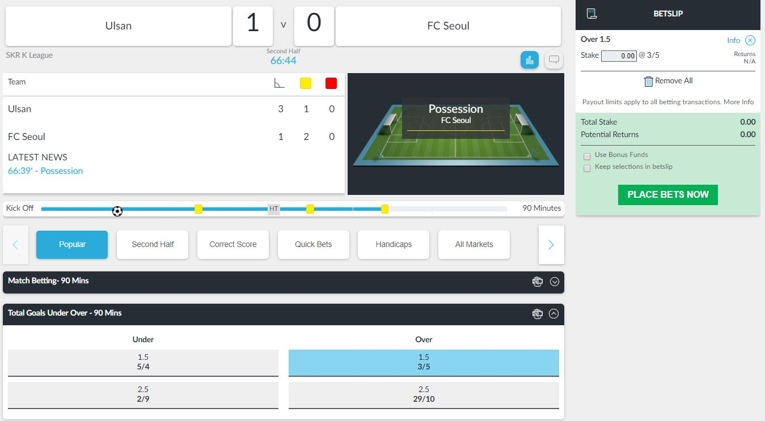 In-play options take a prominent place on the homepage of the BetVictor website and mobile app. First dibs is given to football but a quick scroll down will reveal links to a host of other sports including tennis, cricket, basketball, and volleyball – depending which events are taking place at the time.
In the in-play section itself these are well organised by category, with live and upcoming options side by side for easy reference, and photographs of each sport taking place keeping it interesting.
As with most of the decent bookies there are nice little match graphics at the top of the individual match page telling you what's happening at any given moment, although they aren't as impressive as I've seen before. Where it lets itself down is in the lack of relevant stats, giving you the only the bare minimum.
Betting lines have plenty of tabs to help you find the bet you want without scrolling forever, and it's a very simple interface to use. It's not perfect, though. It looks good but there are better live packages available.
Live Streaming
You can live stream UK and Irish horse racing through BetVictor as long as you've placed a bet of £1 or more on the race you want to watch. Unfortunately though, that's about the limit of the live streaming options, which is a bit naff if you like to bet on other sports.
It's also quite difficult to find the live streaming option on the main site, though it's nice and easy to locate if you're using the mobile app.
Market Availability & Odds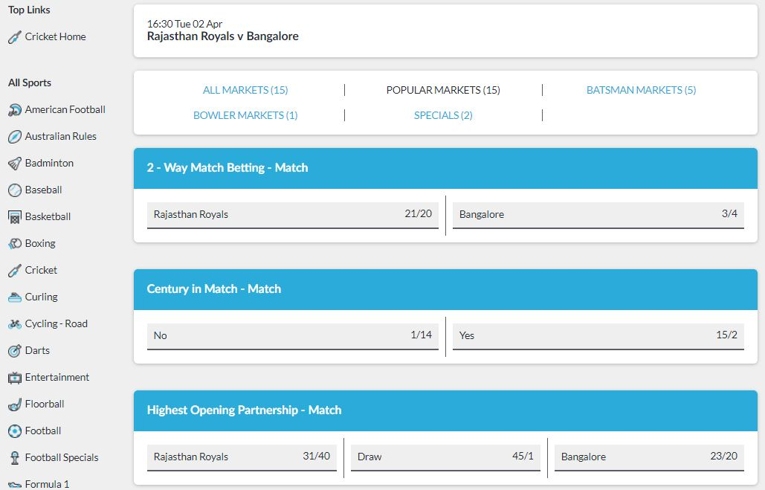 BetVictor are particularly good when it comes to their football betting. There are loads of lines within each game, all laid out nice and clearly, and they offer some of the best odds available on football matches too. The rest of their sportsbook is reasonable, though they don't offer many novelty bets if that's the sort of thing you like.
Sports-wise, there are loads of markets covered including the likes of MMA, Gaelic football, speedway and even table tennis, but the number of betting lines for these markets doesn't quite match up to some of the real big hitters in the industry. It's not lacking by any stretch of the imagination, though, and you can sometimes find some unique lines in amongst them.
They don't do loads of enhanced odds offers or anything like that, but they probably feel that the fact they're always near the top on odds comparison sites means they don't really need to. Best odds are available on both the horses and the dogs.
All-in-all, if you're looking for a site that offers plenty of different sports markets with the best value odds and no need to mess around with offers, then you'll not go too far wrong with BetVictor.
A Good Fit For You?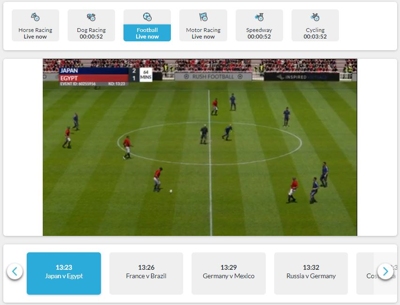 The experience at BetVictor is a big part of their appeal. It's a place for professionally minded people who want to bet with a classy company using an uncomplicated high-end interface.
The great odds offered by BetVictor, especially on the football, are a major selling point. You're unlikely to find a better price with another bookie and knowing that makes life decidedly easy for you when it comes to wondering who to place a bet with. They have murky reputation when it comes to paying UK tax, however, so even though they aren't doing anything wrong, if you take a moral stand point against that sort of thing it could put you off.
The company's website and app are both brilliant and, in my opinion, probably the best out there. If you like a nice, clean and easy to navigate website that harnesses the latest technology and innovations then BetVictor will be for you.
Bet Calculater & Results Service – Two massively helpful tools to run your betting activity with.
Bet Boosts – Although short on offers, BetVictor's daily Bet Boosts offer extra value, and the #priceitup feature gives you the chance to get odds on personalised bets.
Virtuals – Probably the most advanced Virtual betting package there is. Superb graphics and commentary and 6 different sports.
Betfinder – This is one for the horse racing bettors. You can search the days races by star rating, odds, horse form, trainer form, and other options to locate the perfect horse at the perfect odds for you.
History of BetVictor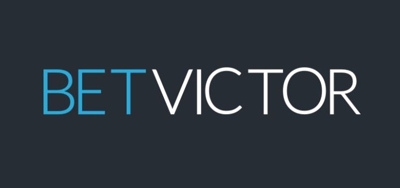 William Chandler opened Walthamstow Greyhound Stadium back in 1925, beginning the family association with the betting industry.
Interestingly though, the bookmaking operation that uses his family name was technically nothing to do with him as it was opened by his son in 1946. His son, as you might have guessed, was called Victor Chandler and he ran the operation of the business until he died suddenly in 1975.
At that point his son took over the business, though he didn't even need to print new business cards as he was also called Victor Chandler. The older Victor had opened a series of shops in the South East during the 1960s but his son thought a bit further afield, targeting foreign markets before opening an office in Antigua in order to be able to attract clients from the Far East.
Nowadays they operate online only but are open for business in over 160 countries, and their online operation is one of the best in the business.
Contact Information
| Contact Method | Available? | Hours | Address |
| --- | --- | --- | --- |
| Email | Yes | 24/7 | help@betvictor.com |
| Live Chat | Yes | 24/7 | Chat Bubble OnSite |
| Phone | No | Call Back Service | Use Online Form |
| Twitter | Yes | – | @BetVictor |
On the face of it, the lack of phone support is a black mark, but you can request a specific block of time and it has probably been implemented to allow them to control the flow more efficiently. Also, live chat staff really are very good.
The company is registered in Gibraltar, which means that they are regulated by the gaming commission over there. They have a full UK gambling license too, though, so they're also bound by the rules of the gambling commission over here. That makes them a perfectly safe book to place your bets with, just in case you're wondering. Their UK license reference number is 39576.
There isn't a specific customer services address but should you wish to send them a letter then their UK office is here:
4-6 Deanery Street, Mayfair, London W1 1AZ
Their registered address, however, is here:
BetVictor Suite 2.01, World Trade Center, Bayside Road, Gibraltar, GX11 1AA