Originally established in Northern Ireland back in 1979, Mintbet has been given a new lease of life thanks to the explosion of online betting and a lovely operating software provided by FSB Technology. I say Mintbet dates back to 1979 but that's not quite true, given that it's actually the parent company of McBride Racing Limited that can trace its roots back several decades. The rebrand occurred in 2017, with the site taking strides to break into a competitive market ever since then.
The history of racing is clear when you see the company's coverage of both horse and greyhound racing, though it would be to do them a disservice to suggest that that's all that they offer. It definitely takes centre-stage, however, so if you like to have a flutter on racing and are hoping to find an alternative bookmaker to all of the big boys then this is the place to start. I say that because it's unusual for newer bookies to offer coverage of one of the sports, let alone both of them. As you'll see by reading through this site, that's just one of many surprises that Mintbet has up its sleeve.
Desktop Site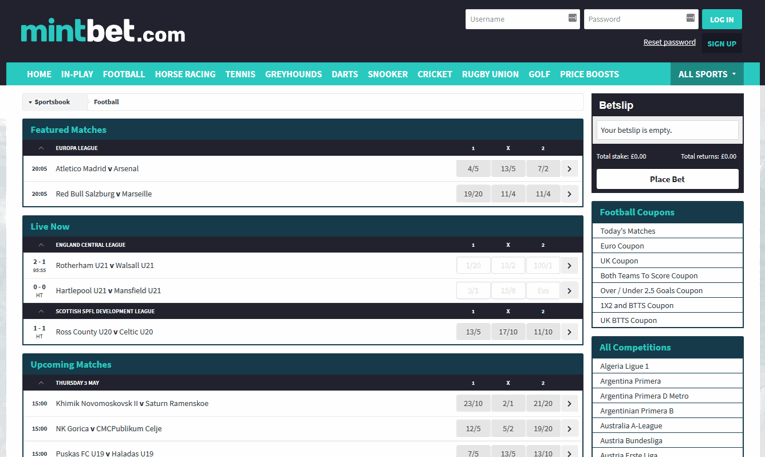 If you've read my review of Mintbet's sister site, Black Type, you'll know that I'm a big fan of what FSB Tech have done with their operating software. The site is stripped back so that it doesn't look too busy, yet it's also got all of the main things on it that you could possibly want. The strip across the top provides you with quick links to the most important sports, meaning the likes of football, tennis and, of course, horse racing are just a click away. Racing also takes centre-stage when you scroll down onto the main page proper, with the next big races to go sat directly underneath the advertising banner for Mintbet's latest offers.
As you'd expect from a site with the word 'mint' in its title, the colour scheme looks nice and fresh thanks to the combination of blacks, whites and mint greens. It means that everything is really simple to navigate because none of the colours clash and it is therefore really easy to find what you're looking for. There's no search function but, to be honest, I've never had the need for it anyway. Everything is so easy to find that it's a genuine relief to turn to Mintbet after using even some of the most well-known bookmakers' sites. As so often with these things, it's a matter of personal opinion, yet I'd be surprised if you found much to complain about when it comes to Mintbet's desktop site.
Mintbet Mobile App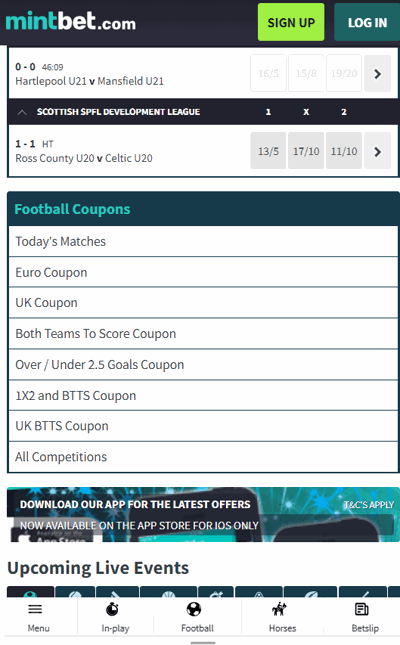 Mintbet's mobile app continues in much the same vein as the desktop site, keeping things nice and clean and boasting the same colour scheme. If anything, I'd suggest that Minbet's app is perhaps a tad busier than the site you'll come across on your main computer, largely because it tries to offer the same sorts of things but on much less screen real estate. You'll still see the advertising banner at the top, as well as In-Play events next on the list. These are split up into sports, which makes them much easier to navigate. Upcoming football is next, with racing actually coming second in terms of sports here. Perhaps they've discovered that people tend go bet on football more often than the horses when they're out and about?
The list of sports you can bet on has been moved to the bottom of the screen, with the full list of every sport that they cover hidden behind a 'Menu' button. If the app isn't for you then I'd definitely recommend switching to the mobile site in your device's browser. Given that I like it when things are pared back, it's an absolute joy to use. You'll find Quick Links gives you direct and immediate access to all of the most popular parts of the site, such as Next Horse Races and Next Greyhound Races. Keep scrolling and the biggest horse races of the day will come up directly, as will a look at the In-Play markets and the football coupon. If you're looking for a specific sport then the Menu option is still there along the bottom of the screen, letting you go directly to whichever one it is you want to bet on. Again, there's no search feature but that's really not a major issue.
Live Betting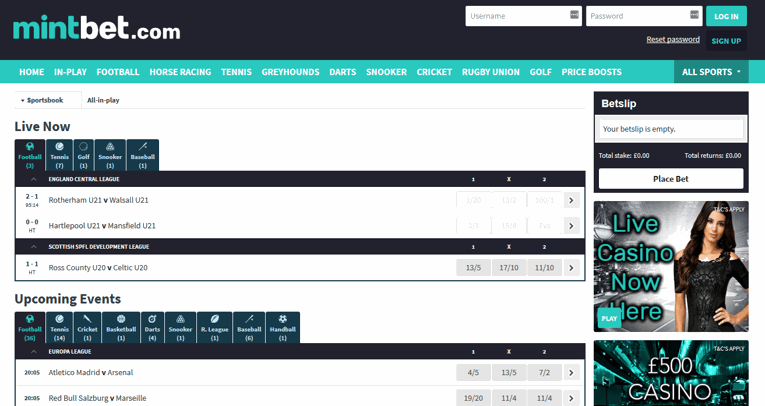 I've already made several mentions to the 'In-Play' section of the site and that's because Mintbet puts it front and centre. It's not so in-your-face that you're going to feel as though its aggressive marketing, but it's certainly easy enough to find regardless of the platform that you use. On the mobile browser's Quick Links list it's third, for example.
Whatever your sport of choice, it's really easy to place a bet on the In-Play markets thanks to the 1X2 options you're presented with when you load the page up. In fact, the only disappointment is that there's no indication of how many more options you have available to you on any given event, so you'll have to open up the page's dedicated page to find out.
LIVE STREAMING
There's no Live Streaming from Mintbet at the time of writing, but that's never something I consider to be a deal breaker anyway. I'd always recommend that you check out at least one other website's odds before placing your bets, so why not do so with a bookmaker that offers Live Streaming, watch the event in question with them and place your bets with Mintbet if you get better value through them?
Markets, Odds and Features
As with Black Type, the depth of the market with Mintbet is a little disappointing. That's not to suggest they don't offer any sports whatsoever, just that the sports they do offer are very much in the category that you'd label 'mainstream'. As I mentioned before, though, they cover both horse and greyhound racing, which not every relatively new bookie on the market does. You'll be able to bet on the likes of American football, cycling, handball and rugby, but if you like to wager on the more exotic markets then you're likely to find yourself disappointed. However, to be totally truthful I'm not entirely convinced that that's a bad thing. There are loads of bookies out there that offer so many sports that you sometimes have to scroll for ages to find the one that you're after, so knowing that there's a bookmaker I can turn to that just keeps things simple is fine as far as I'm concerned.
When it comes to odds, Mintbet rival the best of them. As I was writing this piece I had a look at the 5.20pm race at Newmarket and noticed that the favourite was priced at 15/8 with Mintbet whilst the best I could get elsewhere was 2/1. Low and behold, by the time I'd reopened Mintbet to place my wager their odds had shifted to 2/1 to match the market. In one instance in the same race Mintbet were actually offering the best odds that I could find, coming in at 16/1 compared to the 14/1 available from everyone else. That's the sort of thing that helps a bookmaker stand out from the crowd and grab my attention, so make sure you check out how good they are at the sports you enjoy the most.
BANKING
As far as banking methods are concerned, the options are slightly more limited than I'd like. The only things you can use at the time of writing are debit cards.
The good news is that the minimum deposit and withdrawal amount is set at £10, so you don't need to pay in or win a fortune to be able to take it back out again.
OTHER PRODUCTS
Mintbet have been around long enough now to know the importance of offering customers a little bit extra. That's why they've supplemented their Sportsbook with both a Casino and a Live Casino.
The normal Casino offers all of the usual slots and other games, as well as video poker, whilst the Live Casino adds a variety of table games that are manned by real human beings. If you're interested then you'll also find a host of Virtual Sports available to bet on.
About Mintbet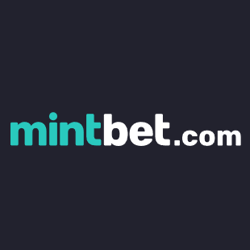 McBride Racing Limited is a group of Northern Irish betting partners that can trace their history in the industry back to the end of the 1970s. They've never quite been able to branch out into England, instead furthering their operations in the Northern part of the Emerald Isle prior to the launch of Mintbet. The online venture launched in 2017 and has already gained an impressive following, finding itself as one of the top quarter of all online bookies. Though the site is owned by McBride Racing Ltd., it's FSB Technology's software that powers it and makes it the interesting proposition that it is.
Let's be honest, a bookie that only started operating in 2017 isn't going to become one of the biggest and most popular on the web in a matter of years. Yet Mintbet have enough about them to become one of the first of the 'smaller' companies that you'll turn to if you're looking to place a bet with a bookmaker that gives something back. Their VIP scheme, for example, sees customers that bet big given 10% of their losses back up to a maximum of £2000. You'll need to deposit over £500 each month to qualify, but given that you're essentially only putting forward £450 that's not a bad deal at all.
PROS
Every way that you access Mintbet works exceptionally well, with the site optimised for mobile browsing being particularly pleasing as far as I'm concerned. The odds are also good enough to be worthy of a mention, as is their coverage of both horse and greyhound racing. The In-Play betting platform is one of my favourites to use.
CONS
The lack of Live Streaming will always leave some people wanting more, but that's not a deal breaker for me. The limited market depth is going to be far more of an issue for those that like to broaden their betting horizons, whilst the company definitely needs to allow more banking options.
Licence & Contact Details

When it comes to being able to communicate with a company, I personally enjoy a Live Chat option more than anything else. It means I can get on with some other bits and bobs whilst I'm waiting to them to reply, so I was delighted to see that Mintbet not only offer this but don't take long to answer. You can email them directly if you'd prefer, with the only disappointment for some being that they don't have a phone number to call.
In terms of social media, Mintbet are confident enough in what they're doing with their Twitter that they've embedded the feed of it on the side of their site. They do seem to interact with punters fairly regularly too, though you'd still be better off using the Live Chat if it's urgent. Their Facebook page is just as active but they're not as quick to respond to queries or comments.
In terms of licensing, it's actually FSB Technology that has the UK Gambling Commission licence, the number of which is 22201. If you want to write to McBride Racing Limited them here's their snail mail address:
Mintbet Address: McBride Racing Limited, Devlin Units, Unit 1,Bridgend, County Donegal, Ulster, Ireland, 492077