The really nice thing about spending time on betting sites in order to review them is when you come across one that you didn't know much about that takes you by surprise. That's what happened to me with Titanbet, a bookies I had a vague knowledge of but couldn't honestly remember having used much. Then when I did I realised that I'd be using them a lot in the future.
Their website is sleek and easy to use, which shouldn't really be a surprise when you consider that the company is owner and operated by the gaming software company Playtech. Of course you don't use a bookmakers just because they've got a good website, so I was also pleasantly surprised by the depth of their markets. Their odds are about average, too, meaning that they really can compete with the big boys when trying to get your attention.
Desktop Site

As you may well have guessed from my intro, I'm a big fan of Titanbet's desktop site. When your parent company is one of the largest gaming software developers in the world, of course, you'd expect your website to be pretty good. I honestly think it's one of the best around, though, and that took me by surprise a little. There are two things that make it so good when compared to its competitors: The ease of use and the clarity of the information in front of you.
The site fits a lot of information on to its homepage but not in a way that makes it look cluttered or confusing. As well as quick links to all of the different sports on offer and the most popular sections of the site, there's also a section right at the top that provides you with the day's highlights. If there's a big game coming up in the Premier League or a tennis match involving a British prospect like Andy Murray, for example, you'll be able to click on it here. In-Play games are easy to find and the odds are displayed clearly in every instance. It's great.
Mobile App
The mobile app is a weird one. I expected it to be just as good as the website and yet somehow it isn't quite up there. It follows the same design, with its colours and layout, but it doesn't quite have the sleekness of the desktop site. That's not to suggest that it's not very good, of course. It's still much easier to use than a number of other bookies' apps and it may well be that I'm holding it to an unfair standard after being so impressed with the website.
You'll still find easy links to all of the sports that you're likely to want to bet on, as well as clearly displayed odds on all of the markets. If you like to bet in-play then you'll find you can choose to look at a funky graphic, a text description of the action or a list of stats. There's also a search function as part of the app that lets you look specifically for a team or a player. Interestingly the app has quick links to more random betting markets such as entertainment and politics. It's good, it's just not brilliant.
Live Betting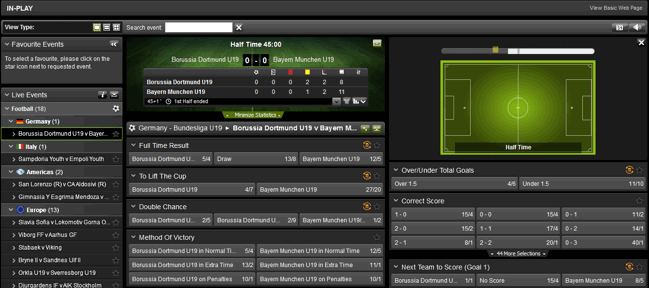 Titanbet's in-play betting is up there with the best of them. It's also one area where it may be even better on the mobile app than on the website, though even that's a close call as they're both top-notch. The markets are nice and clear on both versions, with the desktop site offering both a flash-based and a more basic service; ideal if you've got an older computer or generally aren't a fan of using flash. All-in-all the live betting experience here is a good one.
LIVE STREAMING
Live streaming is the one area where Titanbet aren't as strong as some of their competitors. That's no surprise, really, when you consider that it's an expensive thing to do and it's only really the bookies with massive clout that can make it work well. You can bet on an Irish or UK horse race as long as you've wagered £1 or more. After that, though, you're pretty much on your own.
Markets and Odds
When it comes to odds Titanbet are around and about the industry average. They rarely offer spectacular odds that knock all other bookies into a paper cup, but then they're not really trying to do that anyway. I'd have a shop around if you're keen on securing the very best price possible, but I'd also suggest that you're not going to find Titanbet vastly different from elsewhere and you may even find yourself getting added value if you take advantage of one of their regular promotions.
The depth of their market is where I think they really offer something a bit different. Titanbet wasn't set-up with a solely British market in mind, so you'll find that they offer a decent amount of lines on the more obscure sports like handball or MMA. That said, they also offer decent depth to more typically British obsessions such as cricket and football. As I mentioned when talking about the mobile app, you can even bet on things such as politics and entertainment.
Banking
You can deposit money with all of the usual debit and credit cards as well as more modern methods such as PayPal, Neteller, boku and PaySafeCards. Skrill, Entropay and bank transfer are also viable options, with no fees applicable and a minimum deposit amount of just £10.
OTHER PRODUCTS
Before Titanbet became a thing there was Titan Poker. In fact, for a time the company's reputation came about because of its excellent online casino offering. Unsurprisingly, then, there's a decent casino, live casino, bingo section and online poker to choose from, as well as virtual sports and a Macau-style online betting area with a good selection of slots.
About Titanbet
Playtech was formed in Estonia in 1999 by a London-based Israeli billionaire named Teddy Sagi. Five years later the poker part of the company was launched and five years after that came Titanbet itself. Having learnt from their experiences in the poker world, the company chose to concentrate on the user first and foremost, meaning that customer loyalty is rewarded and the experience of using their wares is second-to-none.
There's no question that they haven't been around for as long as some of the bigger-hitters, but with a 2009 starting point making them one of the youngest bookies in the game. Yet they have good pedigree and Playtech has a wealth of experience to turn to when needed. They employ over 3,500 people on the Isle of Mann, for example, so they're unlikely to be found wanting when it comes to what they're capable of doing compared to their rivals.
PROS
Titanbet's desktop site is their number one selling point, as far as I'm concerned. It genuinely beats most of their competition hands down, with a smooth operating system combining well with a smart design that makes it a pleasure to use. They also offer a wealth of markets and decent enough odds to mean that they should definitely be in your roster of bookies.
CONS
The biggest criticism I have of them is their mobile app. It's just not as smart or beautiful looking as I'd expect given how good their website is. Their odds could be better, too, if you want to be hyper-critical. Though having said that they often do hit decent enough heights when you look at their promotions and offers.
LICENCE & CONTACT DETAILS
Titanbet have a decent live chat service that I have never struggled to reach someone on, provided I've been on there during their opening hours of 8am until midnight. It's a bit of a pain that they're not available 24/7 but not every bookies offers that anyway. The same hours operate for their telephone helpline, too.
When it comes to social media there is no Twitter account at the time of writing (though be careful as there is an account calling itself Titanbet with all of the company's markings) but there is a Facebook account, even if it's not used much.
Titanbet are operated and licensed from Barbuda and Antigua, though they also have a full UK gambling commission licence so are a safe bookies to bet with. Their UK licence reference number is 39123. Should you wish to write to their customer service team then the address you'll need is: Titanbet.co.uk, P.O Box 2488, Makati Central Post Office 1264, Makati City, Philippines.