Given its lack of recognition in the UK, you might be surprised to learn that bet-at-home.com was formed way back at the dawn of internet betting, in 1999. Just because it's not one of the more famous bookies on British soil doesn't mean that it's not worthy of your attention, however.
This is very much a European facing bookmaker with five million customers using their services, so they must be doing something right. Maybe it's the 27,000 daily bets spread across 80 sports that does it?
The sportsbook was part of the bet-at-home.com service pretty much from the get go, with a casino added in 2005 and live betting introduced back in 2009. UK customers had to wait until 2014 to sample their wares but they continue to improve and diversify year after year, so this is a bookie worth keeping an eye on.
Odds and What's Available
This isn't a bookie that will blow you away with the depth of the markets on offer, but they do cover lots of different sports, numbering around 40 if you include all of the eSports they cover. This is a strong point for bet-at-home, so much so that it has its own dedicated area on the site along with live streaming.
They are also good for sports that are rarely seen elsewhere such as biathlon, sailing, and futsal, but horse and greyhound racing are notable exceptions so if that's important to you then bet-at-home is probably a no go. Football, tennis and American football tend to be the busiest categories.
The odds are decent, especially for European focused sports of which there are many, but there isn't much in the way of promotions so the odds usually have to be taken at face value. It's unlikely that they will be the best of the bunch very often but then again they offer odds on some events you might not see at many other bookies, so it's a question of supply and demand.
Comments on the Website
I told you bet-at-home have been around since 1999, and when you visit the website you would be forgiven for thinking it was the original.
It's basic in appearance and sticks out like a sore thumb amongst the rest of the UK facing bookies. The colour scheme is grey and blue with a bit of green chucked in for good measure, and the layout squashes all of the content into the middle of the screen. It's instantly memorable for all the wrong reasons, but things do improve somewhat when you start using it.
The usual collection of a sports A-Z, quick links, and live betting options are immediately available, as well as a couple of tabs for contact and news, which is a nice touch. Navigation is easy enough using any of these options, and there is also a search bar for more specific requirements.
As you would hope with such a no frills offering, speed isn't an issue as you hop from one screen to another, and the betslip has separate tabs for singles, combi, system, and multiway bets which works positively in the user's favour.
It's highly functional and won't cause you any problems, it's just not very nice to look at.
Options for Mobile Bettors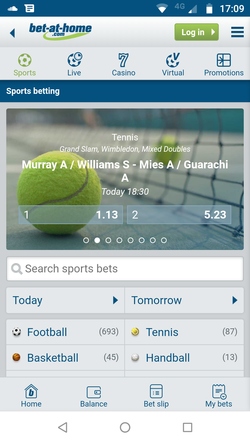 I suppose it's not really a surprise that a company which is literally named after the idea of betting in your home doesn't have an app to help you bet on the move. The mobile site, meanwhile, is actually alright, so if you have a decent data allowance you will be fine.
It's essentially a condensed version of the desktop site and it works well because of that; the slightly clunky feel of the desktop site is almost gone after the scaling down, and the whole thing works just as effectively while at the same time receiving a welcome facelift of sorts.
It still takes a few taps to get to a specific event (unless you use the search bar) but it's a very good product for browsing between various sports before deciding what to bet on – and you can return to the main page in a single click. It's equally as powerful too so you shouldn't be slowed down my poor response times.
The top menu bar handles the main categories like sports betting ,live betting, casino etc., while the footer menu is your gateway to managing your bets and your funds. This works well and feels intuitive; it doesn't take more than a few seconds to become instinct.
The smaller screen also tidies up the live betting interface, and the whole thing is kept in order using stacking screen wide tabs. This does mean you have to scroll as opposed to minimising and maximising different options, but since so much funelling has already happened before you get anywhere this isn't a problem.
Banking: Deposits/Withdrawals
| PAYMENT METHOD | MINIMUM DEPOSIT | MINIMUM WITHDRAWAL | WITHDRAWAL TIME |
| --- | --- | --- | --- |
| Visa/Mastercard | €10 | Credit Card (€100) | 3-5 Working days |
| PayPal | N/A | | N/A |
| Skrill | €10 | €10 | Instant |
| Neteller | €10 | €10 | Instant |
| Paysafecard | €1 | €10 | Instant |
| ecoPayz | N/A | N/A | N/A |
| Entropay | N/A | N/A | N/A |
| Trustly | €10 | €10 | Instant |
| ApplePay | N/A | N/A | N/A |
| Bank Wire | €0.01 | €0.01 | 3-5 working days |
| Cash (In Shop) | N/A | N/A | N/A |
A European bookie means that Euro's are used as standard, so the table below shows values in Euro's rather than sterling, which will obviously affect your funds as the exchange rate fluctuates.
The terms aren't 100% clear here. For most methods withdrawals at least 2 or 3 withdrawals a month are free, after which an additional fee of up to €5 will be charged depending on the currency. This isn't so bad and mainly exists to stop people endlessly withdrawing small amounts here and there, wasting the company's resources.
Some methods seem to be limitless, but always double check with customer support if you are unsure.
Maximum withdrawals seem low although bank transfer doesn't state any, and processing only takes a max of 24hrs their end, which is pretty good going – some companies still have a 3 day processing period.
Betting as it Happens
Again, the live betting section isn't visually inspiring, but actually there is a lot of good stuff in here and it does a good job of cutting out the nonsense to simply display your betting options and their ever changing odds.
It's the little things like the multi-view option which remembers the last few events you looked at and saves them in a tab so you can instantly bring them up again. These innovations are genuinely useful for the punter and add to the experience.
Access to stats are on hand via a small icon so they don't get in the way if you aren't interested in them, and if you are they will open in a new window.
Despite some nice features I don't think the way that the live betting interface functions encourages the best workflow, which isn't to say that it doesn't work per se, but it takes a bit of getting used to and the pay off isn't really worth the effort in my opinion.
There's no live streaming either, although they are good enough to tell you which TV channel is screening the game, but the absence of any sort of match graphic or live game tracker leaves a big hole.
Should You Bet-At-Home?

Despite not having a particularly sexy website, I think bet-at-home would be good as part of a portfolio because they offer something a bit unusual compared to traditional UK focussed bookies.
This gives you access to interesting markets and an especially good range of eSports, so if you like the idea of a bit of diversity then you should give them a look.
Here are a few other betting features worth knowing about as you make your mind up:
Results Service – This is a great little feature that you can adapt to suit whatever interests you from 2 hours up to a month ago.
Last Minute Bets – Good idea this. Jump to this section and stick a live bet on in the dying minutes of a fixture.
Betting Guide – Useful for new bettors or those wanting to expand on the type of bets they make. We all have room to learn!
Betting News – Built into the interface is a scrolling news section so that you can get a snap shot of the latest goings on in the world of sport.
Getting Hold of Them
| CONTACT METHOD | AVAILABLE? | HOURS | ADDRESS |
| --- | --- | --- | --- |
| Email | Yes | 24/7 | service.en@bet-at-home.com<;/td> |
| Live Chat | Yes | 7.30am – 22.30pm | On Site Tab |
| Phone | Yes | 7.30am – 22.30pm | +356-20102511 |
| Twitter | Yes | – | @betathomecom |
Given that bet-at-home.com is a company with a focus on Europe it's not really a surprise that you can speak to their customer service team in English, Polish, Slovenian or German.
The team are efficient but I've never experienced any humour or personality from them, perhaps a bit of sass from time to time though…
As far as I'm concerned the most important thing about them is the fact that they're licensed by the UK Gambling Commission. Their license number is 39091 and that means that your money is safe with them.
For their British operations they have a registered office in Malta and the address for that is as follows:
Bet-at-home.com Internet Ltd. Bet-at-home Entertainment Ltd. Portomaso Business Tower, Level 12, STJ 4011, St. Julian's, Malta.
Lastly, as is only fitting for a company started in and with a website nodding back to 1999, you can calso fax them on: +356-20102590
History of the Company

bet-at-home.com was formed by Jochen Dickinger and Franz Ömer in 1999. They have offices in Germany, Gibraltar, Austria and Malta and they've had a licence to operate in the UK since 2014. A year later they also gained the right to operate in Ireland, and since 2009 they've been a member of the BetClic Everest S.A.S. Group. They are well-known in Eastern Europe, particularly in German speaking countries and you can bet on their products in fifteen different languages.
The website has been online since 2000 but has undergone numerous redesigns over the years, most notably in 2005 when the new casino was launched. Owned by the parent company bet-at-home.com Entertainment GmbH, bet-at-home.com has its headquarters in Düsseldorf. They are best known in Germany through their sponsorship of Bundesliga clubs such as Hertha Berlin and Schalke 04.