The clue is in the name with Mobilebet. They have a tagline that says 'Win anytime, anywhere' and that is what they're trying to encourage and assist with.
You may not have heard of them and that's understandable, they're a relative newcomer to the online betting world having only launched in 2014, although as a member of the Co-Gaming Ltd family who also run ComeOn they have a good pedigree and are building themselves a brilliant reputation.
Based in Malta but with a UK gaming licence, the Mobilebet name is indicative of the fact that they want to make everything as simple and intuitive as possible for the user, rather than the idea that they're just for customers with the app.
The Mobilebet ethos is about rewarding loyalty (there is a points system) and making things as clear as possible for the user.
Mobilebet's Mobile App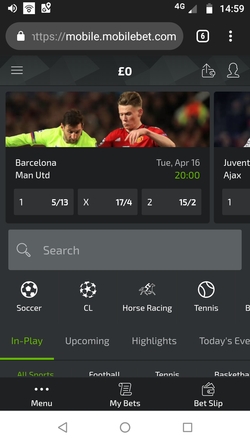 Mobilebet isn't solely aimed at mobile customers, but the company's style lends itself strongly to both the Mobilebet app and the site that loads when you use your mobile phone's browser. They both follow the design and layout of the main site, with some improvements for the smaller screen.
The app actually feels a little more cutting edge because of the innovations they have had to use to fit so much information onto a mobile screen, with scrolling menus and a betslip that floats in and out.
Much like with the desktop site, the app is quick and smooth changing to whatever page you click on with immediate effect, but I did notice that responsiveness suffered from time to time.
It also keeps everything to a minimum as far as the information displayed on the pages is concerned. It does a good job of keeping everything neat and clean, especially on busier pages like in-play betting where the layout is perfect for the job. This is a particularly strong area thinking about it.
This clarity also makes the site easy to navigate so you can find your bet in no time and with no stress. That's not to say that it compromises the markets displayed, however, with loads of different lines available on every sport.
The Desktop Website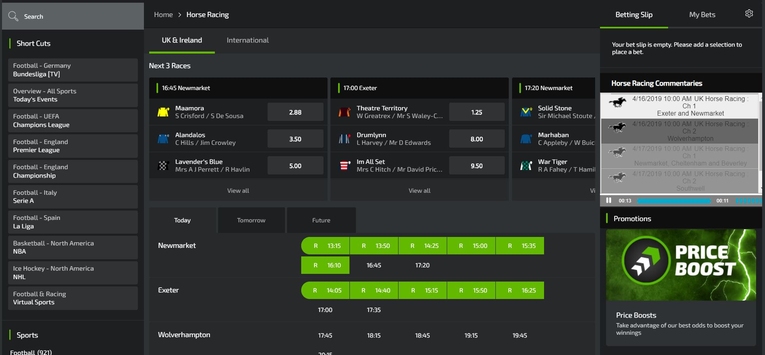 Perhaps predictably for a company that is from the same family as ComeOn, the desktop site is clean, quick and responsive. When you land at the sportsbook you'll find a full sports list as well as a short cuts menu that links to the most popular sports of the moment – meaning that if the Champions League is on at that time, for example, you'll find it there.
A search bar provides another navigation option but apart from that it's all about in-play fixtures which take up the majority of the screen space.
The sport icons are pretty cool but other than that the site keeps graphics and information to a minimum, meaning it's really easy to navigate and the various pages load efficiently and with no fuss. This also makes it a bit uninspiring to look at with just a bit of green dotted about to jazz up the otherwise black and white colour scheme.
In general, everything is organised by sport, date, league or country, and collapsing title bars are good for working through the options quickly. When you look at the bet types in a specific event there are a lot more ways to filter the options like goals, players, halves, specials etc, and they make your life easier too.
Banking
| PAYMENT METHOD | MINIMUM DEPOSIT | MINIMUM WITHDRAWAL | WITHDRAWAL TIME |
| --- | --- | --- | --- |
| VISA/Mastercard | £9 | £16 | 2-7 Days |
| Siru | £10 | No Withdrawal | No Withdrawal |
| Neteller | £9 | £10 | Up to 24 Hours |
| Skrill | £9 | £10 | Up to 24 Hours |
| Paysafecard | £9 | No Withdrawal | Instant |
The reason deposit minimums and maximums are a little odd at Mobilebet is because the Euro is their main unit of currency, so the UK limits are based on the exchange rate. I have listed them as £9 but in reality they will be around the £8.60 area.
To make things more annoying there are small deposit fees on some methods too, 5% on Neteller, Skrill, and Paysafecard and up to £4.18 using Siru. The cashier will let you know about this before you deposit but I found it frustratingly slow to catch up unlike the rest of the site.
Maximums are quite low but if you are more of a high roller get in touch with them and see what you can work out.
Live Event Betting
Mobilebet's in-play betting service is genuinely really good. You can view things by event or by a live schedule with the likes of football, tennis, volleyball and snooker all covered in some detail; as well as seeing the events that are taking place while you're online you can also have a quick look to see what's coming up later in the day or week.
They've put a lot of stock in their live betting, and the range of sports they cover is one of the best, even including smaller sports like bowls and handball. Market depth is decent too, even in less popular markets.
The interface itself could do with an injection of personality, it looks very samey which doesn't help as you are scanning the betting lines and odds, but the content is really good. Events and bet types can be favourited, there are basic game stats on display, as well as a moving 'map' of the game which is half like watching the game live.
The only real downer is that there is no live streaming for anything, but everything else is so good that I don't mind. One thing I would say is that if you particularly like their interface or their betting markets then you could always stream events via a different bookie.
Betting Lines
Mobilebet is actually surprisingly strong when it comes to market range, racing through the mid 30's in number. As well as covering most of the standard sports that UK-based punters will want to wager on there are also far more random sports on offer. Do you know an awful lot about trotting, for example? How about floorball? They're all covered here.
The only notable exception is greyhounds since horse racing was recently added to the list.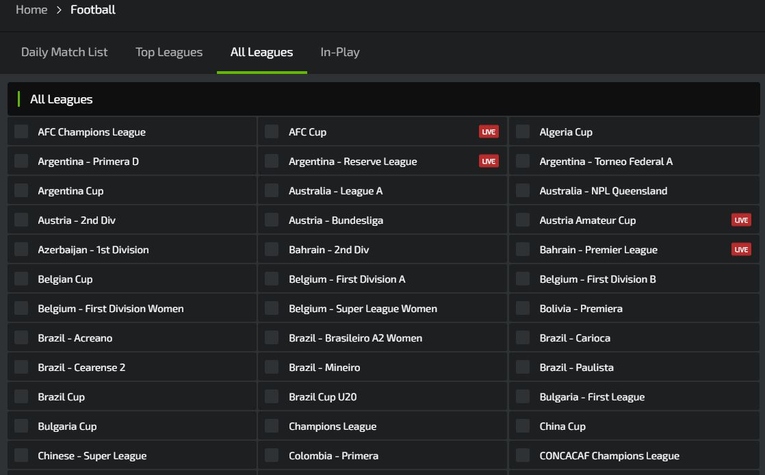 Market depth gets me less excited but it is still very good. Over 180 football leagues get a look in, and there are even 35 handball leagues. Tennis, basketball and horse racing are also busy categories, with the latter even having its own radio commentary.
When it comes to odds Mobilebet are just fine. They're not going to tear the industry apart with market leading odds, but nor are they going to be so disappointing that you turn elsewhere to place your bets. If you manage to make use of your loyalty points then you might even find the occasional offer that is better than it would be through other bookies, and there are a handful of price boosts available too.
Best For…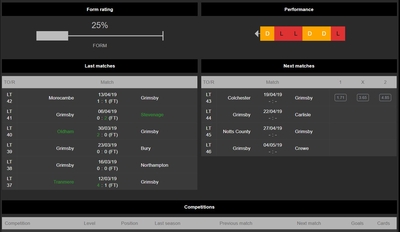 Mobilebet will unsurprisingly suit bettors who like to gamble on the hoof. The whole site is built to enable punters to bet on a whim rather than having to plan ahead. It will also suit people who don't want any fuss and just want to get on with their betting.
That said there are plenty of betting tools available for people who do like to get stuck in and plan every detail. The in-play area if brilliant to use, even if it is a bit boring to look at, and the stats etc are great to use at the same time.
Here are a few other aspects that haven't been touched on much so far:
Stats and Results – The stats are incredibly detailed and when used in-play alongside the results service you can spend hours feeling like a sports detective.
Loyalty Rewards – The reward scheme is a good one and crosses over to the casino. Collect points and spend them in the shop on free bets and bonuses.
Yourbet – Allowing you to combine multiples in the same game to build the bet you want.
Cash Out and Fast Markets – Used in combination with in-play betting these features can really add excitement to proceedings.
Support Options & Licence
| CONTACT METHOD | AVAILABLE? | HOURS | ADDRESS |
| --- | --- | --- | --- |
| Email | Yes | 8am – 9.30pm | support-gb@mobilebet.com |
| Live Chat | Yes | 7pm – 10pm | On Site via Contact Icon |
| Phone | No | – | – |
| Twitter | Yes | – | @MobilebetUK |
The lack of 24/7 support is always a disappointment not to mention the lack of phone support, but this is a young company remember, and the team are great during opening hours.
If you'd like to write to them then the only available address is their registered on in Malta as follows:
3rd Floor, Spinola Park, Triq Mikiel Ang Borg, ST JULIANS, SPK1000, Malta.
They're regulated by the Gambling Commission in the UK, even though the company is based in Malta. They have a licence number, as you'd expect from a well-respected company that follows the rules and the number is 39286.
Who Are Mobilebet?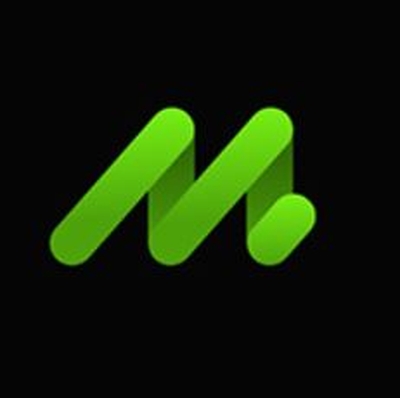 Part of the Co-Gaming Group that includes ComeOn, Mobilebet was launched in 2014 under the name Mobilbet – an 'e' short of their current name.
They pride themselves on customer loyalty and consequently, their retention of users is very high. Another reason why that is the case is their honesty and transparency. Working with a bookie that you know will tell you exactly what's going on with your bets can only be a good thing.
They are based in the heart of the gambling industry, St Julians in Malta, and this is seen as the silicone valley of the iGaming world, so it makes sense that they also run a comprehensive casino product alongside the sportsbook.
The fact that they are relatively young compared to most of the industry means there isn't much of a history yet, but this could also be seen as a positive, as the likelihood is that they'll develop more and more as time passes.