Betfair is possibly the largest online bookmaker in the whole of the UK, and for a nation of gamblers that is saying something. With over a million active users and a weekly turnover of around £50 million, if you're hoping to place a wager then you're evidently in good company here.
Betfair may not have the best standard odds on the market but as a company it has numerous other attributes and promotions that make up for it. Their mobile app is one of the best in the business and the website is also nice and clean to navigate. They also run probably the best betting exchange in the world.
Betfair is something of a 'one stop shop' when it comes to all of your gambling needs.  They are also partnered with Paddy Power, who allow you to use their shops to deposit and withdraw cash from your Betfair account in store if you wish.
Odds and Market Range
Do you like betting on top-level football? If so, you'll find that Betfair offer 100s of different lines pre-match as well as many more opening up once the game gets underway. That's a good example of the extensive nature of Betfair's book with all major markets and top-tier sports. Some bookies depth doesn't match their range but that isn't the case here.
The same can be said for non-sporting markets too. There are loads of special markets to bet on but they stay away from the novelty side of things for the most part and stick to more sensible markets like politics and the Royals. You can also bet on financials.
The one area where Betfair do tend to disappoint is with their raw basic odds. If all you're betting on is a match result and you don't manage to find a price boost or enhancement that tickles your fancy then the likelihood is that you'll be able to get a better price at a different bookie.
Of course, the fact that Betfair's exchange is so comprehensive means you can always bet between the two if one has got better odds than the other. The price rushes and enhanced odds can also turn hum drum odds into pretty interesting ones, and Betfair offer a lot of them daily. What helps Betfair to stand out from the price rushing market is the fact that their enhancements tend to be based on disparities between the exchange and fixed odds book. That means that it's not merely the headline grabbing markets that are likely to get rushed.
Website
Betfair is popular with professional bettors and the website reflects this. It could be a bit daunting to someone new to betting, but if they were willing to put a little bit of time in they would see that it is a great betting platform.
Navigation does make sense but there are a lot of different options, although the site does respond quickly in spite of this. Quick links tabs to popular markets, competitions and coupons as well as the days sporting highlights can be found on the main page. Finding other events is easy enough using the A-Z drop down list, then various other sub menus allow you to browse the competitions and leagues for the sport you have chosen.
On the downside there's no search function, which means that if you're hoping to log on and place a bet quickly, especially on a more obscure game, then you'll have to go through all of the various menus and sub-sections to get to where you need to be.
It's not a very modern looking site but looks can be deceiving, the Openbet platform it is built on has more than enough power to handle the massive number of sports, fixtures and features that are here.
Betting Live
There are plenty of options for live betting, with the company's in-play interface being one of their strongest suits, not for its appearance but for the way it performs. Odds update every few seconds and where live streaming isn't available they do their best to make it an interesting interactive experience. In a live football match, for example, there's an interface showing you which team is on the attack and who is in possession.
Alternatively, you can view in-depth stats that are run by Opta, telling you things like the number of shots, the number of throw-ins and more. You can also specify the time period that you see those details over, such as the last five minutes, ten minutes and so on. This is one of the more detailed live packages out there.
Plenty of tabs exist so you can narrow down your bet type but you might still have to do a fair bit of scrolling.
STREAMING
The live streaming is integrated within the live event betting page, meaning you don't have to deal with a pop-up window or go anywhere else to see what's going on while you're placing your bet.
The most popular things to live stream are greyhound racing and horse racing, though other sports like tennis and football are usually available.
There's even a page where you can check out what's scheduled to be shown live as far in advance as the next 30 days, which is handy.
The only thing is that the screen isn't very big so you might occasionally lose what is happening during big team games.
Some streams are free even if you don't have money in your account, but for horse races the minimum bet is 50p to access the stream. This is actually 50% cheaper than almost everywhere else.
Banking: Deposits/Withdrawals
| PAYMENT METHOD | MINIMUM DEPOSIT | MINIMUM WITHDRAWAL | WITHDRAWAL TIME |
| --- | --- | --- | --- |
| Visa/Mastercard | £5.00 | £1.00 | 2 – 5 Days |
| PayPal | £5.00 | £1.00 | 24 Hours |
| Skrill | £10.00 | £1.00 | 24 Hours |
| Neteller | £12.00 | £2.00 | 24 Hours |
| Paysafecard | £5.00 | | |
| Bank Wire | £10.00 | £10.00 | 3 – 5 Banking Days |
One thing to know about Betfair, is that they are linked with Paddy Power through their umbrella company, Flutter, so you can actually use Paddy Power shops to bet using your Betfair account. That means Betfair customers went from having zero physical bookies to over 100 in the UK and 190 in Ireland, overnight.
The minimum you can deposit in cash is £10 and there is no minimum withdrawal.
Mobile
If the Desktop Site is good then the Mobile App is excellent. It is available on both iOS and Android devices and if you've got a mobile that has a high-definition screen then it really takes advantage of it.
There's very little that you can do on the desktop site that you can't do on the mobile app, with some aspects actually being enhanced by choosing to use your phone. The main one of these is the cash out option. You can cash out online, of course, but the interface is nicer on the phone and it somehow seems more immediate and more fun.
Speed wise it is probably middle of the road, I would never say it was slow but now and again you might wish you could help it along. After the initial load this is less apparent.
It has probably been built with live betting in mind because all the handy tabs like cash out and my bets are never far away, and in-play is top of the list of quick links. You can jump to the exchange from the main menu where you can also find support.
Even better, there's a search option so you can go directly to the event you have got in mind. One of my favourite betting apps.
Unique Features and Exchange
The glaringly obvious unique feature at Betfair is their betting exchange. It could command a review all to itself but to put it simply, it is the worlds biggest betting exchange. This makes Betfair the perfect location if you are experienced and want more control and room to manoeuvre. Professional bettors love this place for a reason.
EXCHANGE EXPLAINED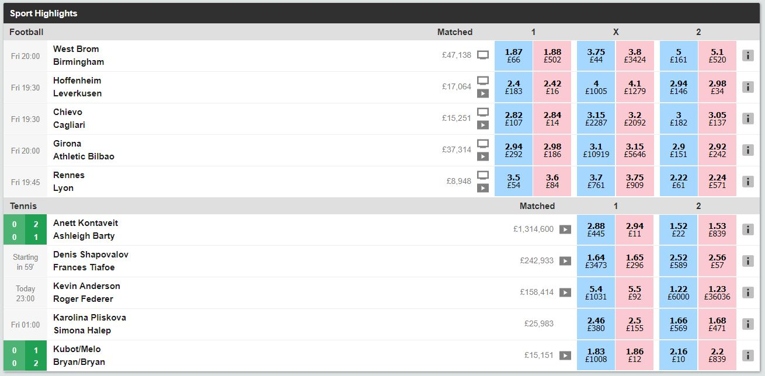 A betting exchange lets you bet against other bettors instead of against the bookie, and instead of only being able to bet on something happening (a win, a goal, etc) you can bet on things not happening. Anyone can create a bet at the odds they like, but in order for it to go live someone else needs to match it and bet on the opposite.
So if you bet on team A to win at 4/1, someone else would need to bet against you or else the bet wouldn't stand.
This brings it round to why using the biggest exchange in the world is a good thing; the more people there are using it, the more likely it is that your bet will be matched. Betfair have kept their exchange as simple as it is possible to be really, there are a few less sports to bet on but loads more betting options for each one.
OTHER FEATURES
It's not all about the exchange. The sportsbook has plenty of other features that you might want to know about. Here are a few of them:
Racing Tips – Betfair offer daily horse racing tips courtesy of Timeform, so if you want ideas or just can't decide where to start your research this can help.
Virtuals – This is actually a strong section for Betfair. There are 7 different sports and the graphics are great. Events start every couple of minutes so don't have to wait long.
News – Betfair run their own news section full of articles, insights and opinions. It is full to bursting
Referral Scheme – You can earn money without even betting at Betfair; by referring your friends you can be rewarded with cash do withdraw or bet with.
Betfair History
Betfair has the honour of being the largest internet betting exchange in the world. It was founded in 2000 by two guys named Edward Wray and Andrew Black and has grown exponentially ever since.
Though it started exclusively as an exchange service, a more traditional fixed-odds betting service was introduced in 2012 in order to ensure that the company could keep up with the more traditional bookmakers online and claim a bigger market share. On the 2nd of February 2016 Betfair merged with Paddy Power to become the imaginatively named Paddy Power Betfair, though they are still run as two separate entities.
Since then they have become a global betting group giant, acquiring many more brands including Pokerstars, SkyBet, and FanDuel in the US where they are aggressively expanding. They renamed in 2019 to represent their new approach, calling the group Flutter Entertainment.
The innovative nature of Betfair has won them a number of awards over the years. The Ernst and Young Emerging Entrepreneur of the Year award was given jointly to Wray and Black, with the company itself awarded the Queen's Award for Enterprise in 2003. They received a second Queen's Awards for Enterprise for international trade in 2008.
When it comes to customer engagement they're surprisingly laid back, letting their reputation speak for them. There's limited interaction or pestering on their behalf and anything they do send you can be unsubscribed from easily enough.
Contact Information
| CONTACT METHOD | AVAILABLE? | HOURS | ADDRESS |
| --- | --- | --- | --- |
| Email | Yes | 24/7 | info@Betfair.com |
| Live Chat | Yes | 24/7 | On Site via Help |
| Phone | Yes | 7.30am – 12.30am | 0344 871 0000 |
| Twitter | Yes | – | @BetfairCS |
Live chat is usually answered quickly and successfully and they aim for a response to emails within 4 hours.
The UK Gambling Commission license number is 39439 but being such a ginormous company Betfair have more than one address, although none of them seem dedicated to customer services.
Their registered company address is: Betfair, Triq ll Kappillan, Santa Venera, SVR 1851, Malta
The UK head office address is: Waterfront, Hammersmith Embankment, Chancellors Rd, London, W6 9HP