Jetbull is a European bookie that has been specialising in online casino since 2007, but their growing sportsbook is getting more impressive with each passing day. They've are licensed in both the UK and Malta, and they also boast the world's largest selection of online casino games.
When I say that their sportsbook is getting more impressive all the time I'm not kidding. Jetbull have been given two awards for their sportsbook since it was established. The EGR gave it the Innovation in Sports Betting award, and the following year it won EGR's Sports Betting Rising Star award.
With thousands of live betting events available from month to month you can be sure to find something interesting to take a punt on at this plucky bookie.
Jetbull The Company
Jetbull are about casino gaming first and foremost, promising the largest selection of casino games in the whole world. The sportsbook has had a lot of attention in recent years though and has developed into a product in its own right. Together, they form a very well rounded site for betting and gaming.
The brand themselves are not afraid to make flamboyant gestures to attract attention, and this has been successful in getting them noticed by punters and driving more traffic towards their site.
Jetbull are owned and operated by Everymatrix Software Ltd in Malta, who developed their own proprietary sports betting platform, OddsMatrix. Jetbull has been the poster boy for this platform since its launch in 2010, but it also serves as a white label platform for other sites.
Desktop Site First Impressions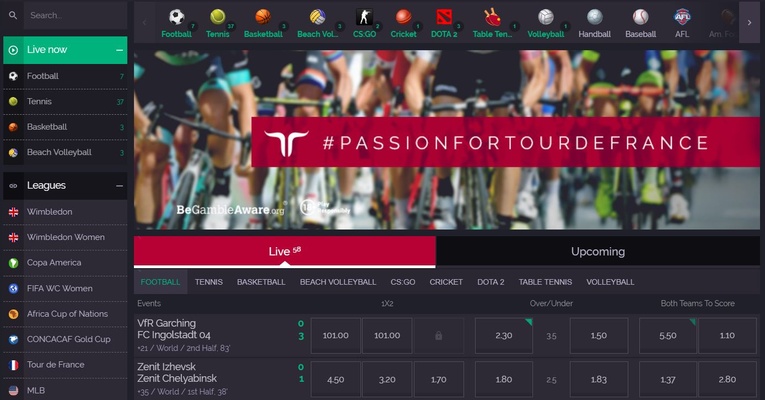 I'm in two minds about Jetbull's website; on the one hand I like the smart and sleek design and I'm a fan of the black, white and red colour scheme. On the other hand, it is very European in its approach and you can see that the company's background is in casino games – there are lots of colourful icons to represent the various sports and competitions and to my mind it's a bit of a clash. It's just a question of taste.
I have no doubts about the ease of use though, thanks to both a regular A-Z and a scrolling sports menu navigation is a piece of cake, and the quick links to competitions of the day can save a lot of time.
They clearly show how much activity there is from one sport to another as well as the number of active promotions, and this theme of telling the punter what they want to know runs throughout. There is even a link specifically titled 'Deposit Methods' – JetBull know what our burning questions will be and have done their utmost to make this information easily available.
It could do with a bit more gas in the tank in terms of speed but it doesn't crawl along either.
Live In-Play Betting
Jetbull are proud of their in-play betting options and all roads lead there whether you're using the desktop site or the app. It is as clean and easy to use as any other bookie's live betting operation, and there are plenty of lines available on most events.
The events themselves are also plentiful, thousands are available each month and tennis, especially, gets a lot of attention. I would be surprised if there was a competitive tennis match being played anywhere that wasn't covered.
In event view the different betting lines spread vertically down the page for miles, but luckily there are plenty of sport specific categories such as handicaps, goals, sets, halves, corners etc., to filter the list and save your scrolling finger from dropping off.
There's no live streaming yet, and in truth Jetbull can't really compare with the biggest in the industry, but nor would I expect them to. They do a valiant job of making what they have the best it can be though, and the match graphic and drop down stats menu give you a bit of extra purchase.
Using the Cashier
Be aware that all figures here are shown in Euro's. That means your money will be worth slightly different amounts depending on the exchange rate of the day. This is an immediate niggle at JetBull, but bear with them.
| PAYMENT METHOD | MINIMUM DEPOSIT | MINIMUM WITHDRAWAL | WITHDRAWAL TIME |
| --- | --- | --- | --- |
| VISA/Mastercard | €10 | Not Stated | 4-5 Days |
| Skrill | €10 | Not Stated | 1 Working Day |
| Neteller | €10 | Not Stated | 1 Working Day |
| Trustly | €10 | Not Available | N/A |
| ecoPayz | €10 | Not Stated | 1 Working Day |
| Paysafecard | €10 | Not Available | N/A |
| Bank Transfer | €10 | Not Stated | 4-5 Working Days |
The good news is that withdrawals are free using all banking methods, the bad news is that you only get one a month. You can make more than one withdrawal a month but it will cost you 1% of the amount.
The fact that they don't make withdrawal limits publicly available is annoying but doesn't suggest foul play. It will be specific to each account, but I prefer companies to be more open about this sort of thing. The only thing I know for sure is that Bank Transfer minimum withdrawal is €10 and the maximum is €2000, which might be a useful guide.
Prices and Betting Markets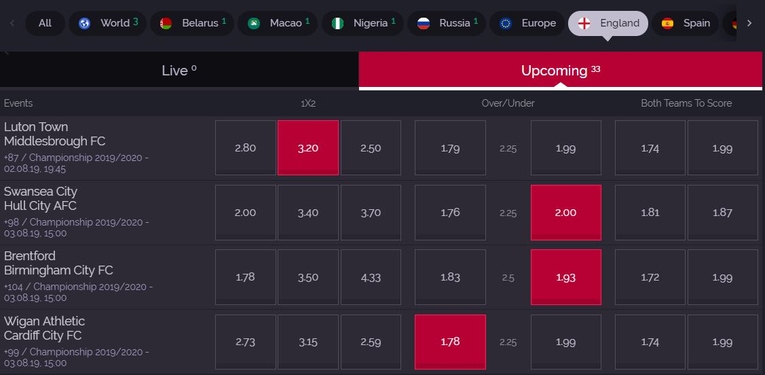 Jetbull's market is actually surprisingly bulky, even if there is a clear leaning towards football in their coverage. They offer odds on sports that other companies don't cover, such as alpine and cross country skiing, as well as on sports that are less popular like floorball.
These span the globe too, and betting by country as well as sport is a heavy aspect of their navigational design.
Market depth outside of football and tennis is nominal, but it's there, and this will obviously increase as certain sports experience their high season. There are plenty of fun bet types though.
Their odds leave a lot to be desired really, struggling to compete with most of the bigger bookmakers but holding their own in the middle of the market. You won't find them near the top of odds comparison sites but odds boosts can give them a bit of elbow room at the table from time to time. Football, hockey and tennis usually offer the best odds on the site.
Jetbull Mobile App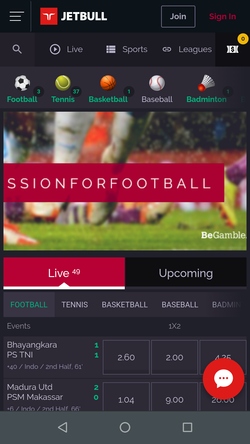 There are separate apps for the sportsbook and the casino which makes them less demanding on storage, but there is also a mobile optimised website if you don't like lots of apps.
Both follows a similar design to the desktop site, using the homepage more or less as a gateway to live betting, and using a scrolling menu bar to browse the different sports. This makes the screen very efficient and easy to digest without sacrificing content – every bet on the desktop site is also available via mobile.
It is fast in response to requests and I actually think the whole package beats the desktop site on every front, but only by a nose. Both are good.
To browse ante post markets you need to first select the 'sports' tab before choosing your category, which could confuse you to begin with, but it's hardly an issue as you won't forget this once you have discovered it.
It can take a few clicks to get anywhere using this method because you have to follow their route of sport-country-league/competition-event rather than just going to a single page with all the options on. If the app was slow this would be infuriating but since it zips along happily it's fine.
License & Contact Details
| CONTACT METHOD | AVAILABLE? | HOURS | ADDRESS |
| --- | --- | --- | --- |
| Email | Yes | 24/7 | support@jetbull.com |
| Live Chat | Yes | 8am-11pm | On Site Tab |
| Phone | No | – | N/A |
| Twitter | Yes | – | @JetbullGaming |
Jetbull's live chat is good, with customer service agents appearing knowledgeable and helpful on the few occasions I've had to turn to them for help. It is only open from 8am until 11pm, though, so if you're a late night bettor then you might be disappointed with that. That said, their FAQ section is reasonably comprehensive – unless you want details on withdrawal minimums and maximums…
Jetbull's website is operated and managed by EveryMatrix Software Ltd, which has a UK Gambling Commission license that was issued in 2015. The license number is 39383 and they operate in the UK, Denmark and Malta. If you'd like to write to them then the address you're looking for is:
Level 3 St Julians Business Centre, Triq Eilija Zammit, St Julians, STJ3155
Is This Bookie Right For You?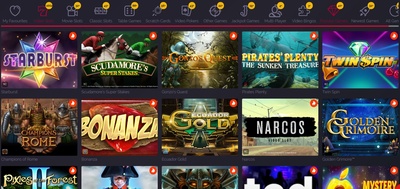 Those of you that are a bit fed up of the same old sites might like to give Jetbull a try. The site feels like its own master, and that's because it is. It's unapologetically bold and brash, and will serve football and tennis bettors especially well.
This independence also means they can address problems instantly as they have full control over the build of their site.
Aside from everything we have already mentioned, there are one or two other features and extra's that could sway you if you are still undecided:
Random Prizes – I like the idea that if you are having a run of bad luck your bookie might drop a grand in your account. This is one of the random promotions Jetbull have run in the past.
Casino – I wouldn't usually list this as a feature for sports bettors, but it's such a good product that those sports bettors who also game will really feel the benefit. There are almost 2000 quality games here.
Lottery – These are good for killing time waiting for the 2nd half, or before an event.
Bet Guide – Within the blog, the Bet Guide will offer betting tips, guides, and aticles explaining bet types you might not have used before in an engaging understandable way.