In terms of modern day bookmakers Paddy Power are arguably the best known of the lot – they definitely create the most headlines anyway.
The company, formed in 1988, is the biggest bookies in Ireland and have a host of shops across the UK and Eire, with their online offering launching in 2000. They have tremendous name recognition thanks to a number of publicity stunts that have occasionally landed them in hot water.
Like most bookmakers that concentrate on the UK market, Paddy Power are at their best when you're looking at their horse racing and football coverage. They offer odds on all sorts of weird and wonderful things, however, so their market coverage is reasonably impressive, and if you dream up a mad idea for a bet that you can't find anywhere else, these guys will probably have got there before you.
Using the Desktop Site

You're not going to forget which website you're on when you visit Paddy Power, the company's grey and green branding is unmistakable and they have plastered it everywhere.
It's an entertaining website before you have even done anything, what with the multi-coloured A-Z sports list and their unique promo banner designs.
As usual, imminent events are front and centre with horse racing taking the top spot, but there are also immediate options to view the days Power Prices and any popular current competitions like Wimbledon, for example.
The navigation system works well, although once you choose a sports category it is pretty uninspiring.
I can't knock any points off for functionality though; it's a multi-directional approach that is uncharacteristically sensible and really welcome from a user's point of view – you shouldn't ever need to hit 'back' using this website.
This is also a website with many extra betting tools like a shop locator, bet calculator, and stats, that can be accessed using quick links below the A-Z.
Live Betting Interface
Each sport has its own in-play section once that sport has been selected from the A-Z, but there is also a more typical dedicated in-play area that contains the lot.
The events are sorted by the sport and the odds change at regular intervals denoted by red and blue for ups and downs – green and red doesn't work if your branding is already green.
To be honest, the in-play area is a bit of a let down for such a big bookie. It's boring to look at and to use, which is quite an achievement considering betting live is supposed to create more excitement.
Even when looking at a specific event it doesn't get much better. The live match graphic feels dated and the odds are in a plain old list below. Sometimes simplicity is key but I wish they would jazz this up a bit more.
Still, it works perfectly well and there are plenty of lines available on fixtures from the UK; if you like to be a bit more adventurous though you will find a much sparser range of bet types, sometimes only a couple of lines per fixture.
Paddy Power are a giant of the industry but they have a good deal of work to do in this department.
LIVE STREAMING
Where the in-play betting options of Paddy Power come into their own is when it comes to their integration with the streaming service. The live streaming is genuinely excellent and many different sports are offered.
Weirdly you can't stream on the mobile app unless you're betting on horse racing, perhaps because that's covered by an entirely different service within the horse racing section of the website. You'll need to be logged in and have placed a bet of at least £1, too.
Mobile App Summary
Paddy Power's app is much more understated in its use of the company's branding than the desktop site and is nice and clear about where everything is.
Some might find the plain white colouring of the background a little boring and I must admit you need to click on a number of things to get to the event that you want to bet on, but each page looks different so it doesn't feel like a chore.
It's quick enough to respond to instructions too – although there are faster apps out there – and the various quick links and menu buttons are well placed.
It's done a good job of guessing what the user is most likely to need at any point so your workflow is natural, and I like that Cash Out is an ever present quick link at the bottom; when seconds count this can be a life saver.
The interface is a good fit for a smaller screen too. Sometimes bookmakers' apps can feel crammed in or oversized, but just like Goldilocks, Paddy Power seem to have got the proportions just right.
Betting and Odds Potential
Horse racing and football are the main events for Paddy Power, and although they can boast global coverage for many sports, they will work best for people who bet mostly on fixtures close to home, with close to 200 markets available on top football, for example.
They also cover a vast array of other markets though, with slightly more exotic things such as Aussie Rules football and show jumping covered well. Of course, being an Irish bookie, Gaelic sports availability is better here than usual, and Paddy Power a well known for their humorous range of Specials.
The odds are possibly the company's weakest area. They aren't as strong as their competitors on most major sports, which is unusual for such a big hitter. They are quite good with horse racing though if that's your bag, often beating other bookies on price comparison sites for their odds on the gee-gees.
For everything else you'll want to keep an eye out for is their enhanced odds offers – or Power Prices – that do bump the prices up significantly. The Rewards Club can also give you extra bang for your buck.
About Paddy Power
Paddy Power have no problem being slightly controversial in order to garner themselves some free publicity. Over the years, there have been a number of high profile 'scandals'.
When Barack Obama became the first black President in US history, for example, the company offered odds on him 'not completing his first term in office'. You can read that how you wish, though most thought it was a thinly veiled bet on him being assassinated. At the European Championships in 2012, Nicholas Bendtner scored for Ladbrokes sponsored Denmark and revealed some Paddy Power underpants in celebration. I wonder who set that little stunt up?
This controversy also seems to be why people love them though, so the more they misbehave the more popular they become. They have had a lot of fun with 'President' Trump…
The company was formed when three Irish bookmakers who owned 40 shops between them decided to join forces. One of them was David Power and he lent his name to the newly formed company, with the Paddy put in front of it as a nod to its Irish heritage. His son, Patrick Power, has since gone on to be the managing director and, as I'm sure you know, Patrick is often shortened to Paddy which completes the circle. David Powers father was also called Patrick to be fair, so he didn't just name his son after his business.
In September 2015, a merger between Paddy Power and Betfair took place, with a new company, Flutter Entertainment, set up to manage them. This company is owned 52% to 48% in the favour of Paddy Power's shareholders and has already made several smaller acquisitions.
Banking: Deposits/Withdrawals
| PAYMENT METHOD | MINIMUM DEPOSIT | MINIMUM WITHDRAWAL | WITHDRAWAL TIME |
| --- | --- | --- | --- |
| Visa/Mastercard | £5 | £0.01 | 2-5 working days |
| PayPal | £10 | £1 | 4-24 hours |
| Skrill | £5 | £1 | 4-24 hours |
| Neteller | £5 | £1 | 4-24 hours |
| Paysafecard | £5 | N/A | N/A |
| ApplePay | £5 | £0.01 | 2-5 working days |
| Bank Wire | £5 | £10 | 1-5 working days |
| Cash (In Shop) | £0.01 (in shop) | £0.01 (in shop) | Instant |
If you can't find a payment option that suits you at Paddy Power then the problem lies with you rather than them. The limits are great too, and affordable for pretty much anyone.
Maximum deposit limits are a little low if you tend to wager with larger amounts, but Paddy Power will be happy to discuss individual needs, and when it comes to withdrawals there are no fees or ridiculous pending periods.
If you were going to judge a bookie on payments alone then Paddy Power would come out on top if you ask me.
CASH
It's a bit of a novelty in these days of virtual money, but Paddy Power is one of the only online bookies that also retains a physical presence, and that means you can walk into one of their 130+ shops and put on a bet in cold hard cash.
Not only that, but Paddy Power have a couple of products to help you link your online funds and your real life funds:
Play Card – This card links your online funds to your real life funds, so you can use cash instore and shops displaying the PayPoint symbol to deposit to your online account, or even better, withdraw winnings from your online account instore and cut out the withdrawal process completely.
Cash Card PPlus – This is a Mastercard linked to your account so that you can treat it like a bank account. That means you can go to the shop/pub/café and buy whatever you want using the fuds in your Paddy Power account. You can also withdraw account funds in cash from ATMs.
Unique Features of Paddy Power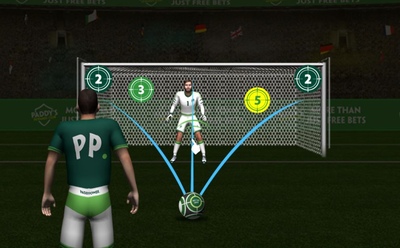 It's rare for a bookmaker to be truly unique these days, but Paddy Power as about as close as you can get. This isn't just about their personality either, but also the extra features they include on their site and their approach to marketing.
They are a great place to bet on Gaelic sports and horse racing sure, but have a gander at a few of the other benefits of betting with them:
Hit the Spot – I'm a gamer, so I appreciate this one. It's a spot kick game that takes place every day with a £1000 pot. It's fun, it's easy, and it's free!
Beat the Drop – Winnings up front, sound good? You choose your stake, how many questions you want to answer, then you can split your pot or bet the lot for each question. Whatever you have left at the end, you win.
Stats and Commentary – These do a lot to boost a mediocre in-play area, especially when live streaming isn't available.
Specials – I've touched on this, but no one else comes up with the sorts of specials that Paddy Power do. For example, you can currently back Alan Carr to be the next James Bond…
Licence & Communication
| CONTACT METHOD | AVAILABLE? | HOURS | ADDRESS |
| --- | --- | --- | --- |
| Email | No | – | support@PaddyPower.com |
| Live Chat | Yes | 24/7 | On Site via Help |
| Phone | Yes | 24/7 | 0800 056 5275 |
| Twitter | Yes | – | @AskPaddyPower / @PaddyPower |
The eagle eyed reader might have spotted an e-mail address even though it's not listed as a support option. Well, Paddy Power pulled e-mail saying that it's too slow a way to get things done and opened up the other options 24/7 instead. Of course though, they still have an e-mail address so I've listed it.
They are much better than most at interacting with their customers too, who is why there are a few Twitter accounts.
Though they are based in Ireland and Malta, Paddy Power are licensed by the UK Gambling Commission. Their licence number, should you be interested, is 38939.
If you're the kind of person that likes to contact people with snail mail rather than email then I can tell you that Paddy Power's address is as follows:
Paddy Power Betfair plc, Power Tower, Blocks 1-3 Belfield Office Park, Beech Hill Road, Clonskeagh, Dublin 4.