Vbet is a relatively new take on the online betting industry, with the company only gaining a licence to operate in the UK in 2018. That's slightly misleading, however, given that it was established in Armenia back in 2008 as Vivaro Bet. They've taken Europe by storm in recent years, combining decent offers with a stylish looking website powered by BetConstruct.
The fact that they've been in the game for longer than it might at first appear also means that customers get more out of them then you'd expect from such a relatively new bookie.
Vbet might not have the same name recognition as the more established bookmakers, nor have they adopted the same heavy advertising approach as similar newbies, yet the likelihood is that you'll begin to see the company's name all over the place in the near future.
They've even moved operations from Armenia to Malta recently in order to take a proper crack at the UK market, so it's fair to assume that they want to be taken seriously.
Markets, Odds and Features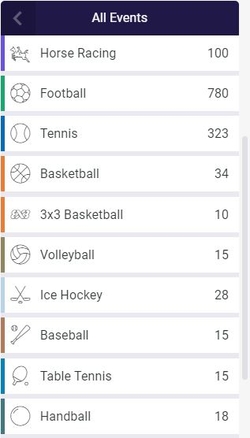 I was pleasantly surprised by the depth of the market offered by Vbet.
Those years spent earning a reputation before applying for a British Gambling Commission licence were clearly not wasted. The obvious options of football, tennis and cricket are all present and correct, supplemented by less common sports such as handball, hurling and water polo.
It's actually one of the larger sports lists out there, although I can't say the same for market depth. It's absolutely fine for your average bettor – 750+ football markets at 10am on a Tuesday morning, for example – but you can find double that at the big name bookies, and some of the less popular sports can be pretty barren at times.
You'll no doubt be most interested to know more about the odds you're likely to get. On that front you won't be too disappointed, with their odds consistently around the same level as some of the biggest bookies in the business. Opt for a look at some more random leagues and you'll find that they're even better, especially if it's a European sport that some of the UK's more traditional bookmakers might not cover to quite the same extent.
That's the beauty of a bookie that has made its name in Europe before coming over here.
Banking: Deposits/Withdrawals
| PAYMENT METHOD | MINIMUM DEPOSIT | MINIMUM WITHDRAWAL | WITHDRAWAL TIME |
| --- | --- | --- | --- |
| Visa/Mastercard | £10.00 | £10.00 | Within 72 Hours |
| PayPal | £5.00 | £1.00 | Within 72 Hours |
| Skrill | £5.00 | £1.00 | Within 72 Hours |
| Neteller | £5.00 | £1.00 | Within 72 Hours |
| ecoPayz | £5.00 | £1.00 | Within 72 Hours |
| Trustly | £1.00 | £5.00 | Within 72 Hours |
It's good to see such a low minimum deposit amount as it makes sports betting accessible to those even on very limited funds. Minimum bets of 10p can make this last a long time too. Plus, hardly anywhere has a £1 minimum withdrawal, so that's a huge plus.
I wish they were a bit more transparent with their terms here though, it's a mission to find any concrete information. The withdrawal time isn't particularly accurate, it's just a blanket potential timeframe. Processing at VBet's end can take up to 3 days and the rest is up to your payment provider. Chances are it will be quicker.
VBet don't charge any fees for either deposits or withdrawals, though, which is to be applauded. Just check that your payment provider takes the same stance.
Using the Desktop Site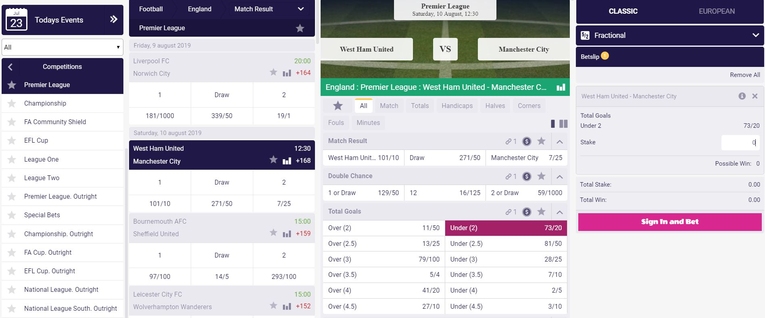 Vbet use BetContruct software, so there's a lot to like about their homepage. For starters, it looks really, really sleek, thanks in no small part to a colour scheme of dark blues, greys, white and purple. They've opted to use a landing page before you choose either sports or casino, which slows proceedings down a little, but the site is so quick to react that you barely notice.
It's an alternative approach because instead of a sportsbook homepage you have to choose between in-play or pre-match, and each has its own homepage of sorts. Both are very busy with lots of working parts, so it can feel a bit like looking at some sort of complicated mixing desk at first, but once you let your eyes settle you will find everything you are looking for.
Sticking with the pre-match screen, and the left hand column holds the A-Z, quick links, and search bar. This is what you will use to navigate and the whole thing can be hidden to give your intended event more room once selected. The page is built from left to right, so that your selection in the left column influences what shows up in the next. This will be a league or competition of some sort. All the games for that league or competition will display in column two and your choice of event will show up in the column three, showcasing all of the different available bets etc.
It's an interesting idea that might take some people a bit of getting used to, but it's a welcome innovation in my book and is a lot less complicated to use than it is to explain! It also means that the site is always shaping itself to fit around the users activity, you can get anywhere from anywhere.
Vbet Mobile App
I'd love to be able to tell you that I'm as big a fan of the mobile app as I am of the website, but I can't for one simple reason – there isn't one. Interestingly, there is a casino app but that's no use to sports fans.
The mobile optimised website is much the same thing though, and quite a product it is too.
Obviously, it couldn't operate in the same way as the desktop site by using multiple columns, so instead a scrolling A-Z serves as the main navigation tool with further options stemming from that. A typical search might be Football – England – Premier League – and then events would be listed by date and time.
Thanks to the speed of the site this takes less than 10 seconds if you know what you are looking for – speed and responsiveness is a consistent positive feature with Vbet, everything works in perfect harmony here.
Once looking at an event use the filtering buttons to narrow down the betting lines or you will be scrolling for days. You can minimise markets you aren't interested in but even with my dainty fingers I kept making accidental selections when trying to do this.
The in-play page works in the exact same way, and you can flick between the two using an always present quick link. When scrolling through betting lines in-play the game visualisation will nest itself in the top corner of the screen so that you never miss a beat, which is a super cool feature.
About Vbet (Vivaro Bet)
Owned and operated by Vivaro Limited, Vbet doesn't have the same sort of storied beginning as some of the more famous bookmakers on the market. Whether that matters is really a case of personal opinion, some people like to be steeped in tradition and others are forever wanting newer and better.
Vivaro Betting Limited was launched back in 2003, getting all of their ducks in a row before launching Vbet in 2008. They've grown to the point that they employ more than a thousand people, so this isn't some small fry operation run out of someone's garage. You may be interested to know that they operate around 190 physical betting shops in their native Armenia, so they are also a brick and mortar bookie, albeit not on British soil.
They use BetConstruct to power their Sportsbook, meaning that you'll possibly recognise the layout from other websites that have turned to that company for assistance in getting the betting side of things off the ground.
They have made good use of sponsorships to break the UK market becoming the official betting partner of Arsenal FC in 2019, and they also employed ex France international Youri Djorkaeff as an ambassador to give them further credibility.
Live Betting Experience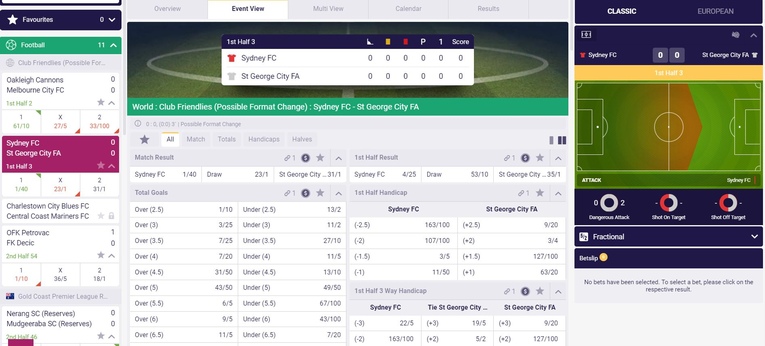 Vbet's Live Betting section is a real strength, with numerous different options for even the most obscure of events. The layout works in the same way as the pre-match section of the site, clearly aimed more at a European market but I have to say, the more I use it the more I like it.
The in-play interface allows for an overview, event view, multi view (up to 3 events), calendar, and results service. This is already more than you get at many other bookies, and you can cycle through different events without having to leave the one you are currently looking at to go back to the overview.
In event view it can feel more like a stockbrokers trading interface than a betting platform, but that will suit the professionally minded bettor and again, doesn't take much getting used to.
I like how much information you are given up front too; cash out availability, stats availability, bets that are available to use in combi's, and event depth are all on display before the fact. Favouriting is an option too for events and bet types.
LIVE STREAMS
The reason for that graphic mentioned in the Live Betting section is that Vbet don't have the rights to all that much live streaming, although it is a feature and growing all the time. You can see what is available as a stream in the calendar – look for the video camera icon – but you will need a funded account to watch.
As I always say, there's nothing wrong with Live Streaming via one bookmaker and betting with another if it's not available here.
The match graphic isn't as detailed here as it could be, but some basic information is on show, and stats are available via a separate tool for less obscure fixtures.
How Do VBet Stand Out?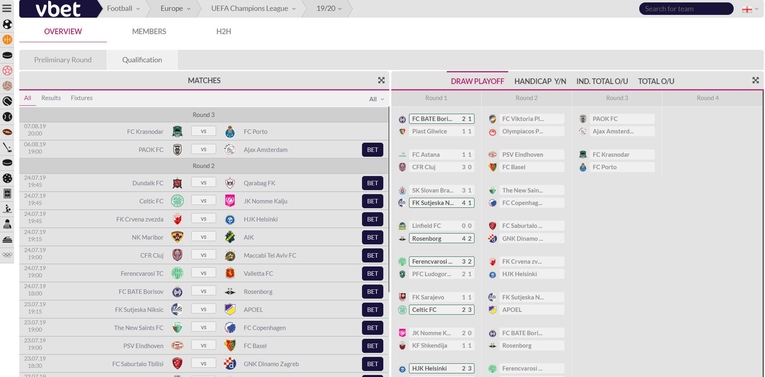 The sleek look and original user interface is a big plus for VBet as far as I'm concerned – some bookies feel so stale because they all look the same. Add to that the low minimum deposit and impressive range of markets and you can see why I was enamoured with them not long after opening my account.
Punters who consider themselves to be of the more modern breed will certainly feel at home here, especially if they do a lot of live betting.
Here are one or two other features that stand VBet in good stead when it comes to the competition:
BetGame TV – A little different from a live casino, this is a good halfway house for punters who want to try something different, but aren't mad on the usual games like roulette and blackjack.
Statistics – This is a great little tool when it's available and covers loads of sports, leagues, and competitions. You can even use it to find interesting betting markets and jump straight to them.
Cash Out/Partial Cash Out – It's a run of the mill feature these days but it's included on pretty much everything at VBet.
Odds – Not just the odds themselves, but the fact that they are available in 6 different variations including Hong Kong, Indo, and Malay. That makes this a great destination for practically anyone.
Licence Number and Support
| CONTACT METHOD | AVAILABLE? | HOURS | DETAILS |
| --- | --- | --- | --- |
| Email | Yes | – | support@vbet.com or via onsite form |
| Live Chat | Yes | 24/7 apparently… | On Site Bubble |
| Phone | Yes | 24/7 | +44 (0)203 582 4005 |
| Twitter | Yes | – | @VBet_uk |
VBet's claim to offer 24/7 market leading customer service is a bit of a Trumpism, or rather, an big fat fib. The live chat facility doesn't seem to be manned before midday despite their claims, and although you can e-mail them 24/7 I don't think that counts as 24/7 customer service – you can email anyone 24/7. Staff are polite and patient though, so that's something.
The FAQ is available but is pretty limited in both the number of queries answered the depth each answer goes into; most are just a sentence long. They need to put in some more effort all round here.
Vbet moved to Malta specifically to be able to target the British market, gaining a UK Gambling Commission licence (Remote Operating number 44662) in 2018. Should you want to know their physical address for some reason then it's as follows:
Luxe Pavilion, 2nd Level, Diamonds International Building, Portomaso, St. Julians,
STJ 4010, Malta.